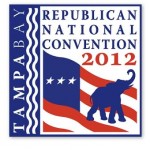 Republican National Committeeman from California, is a well known fixture here at the FlashReport. He's in Tampa in and is live blogging the Republican National Convention…

Outside of Paul Ryan's formal acceptance I did not expect the same high level of deliveries we saw Tuesday night
True enough, former Minnesota Governor Tim Pawlenty and newly elected Ohio Senator Ron Portman both gave lackluster performances. Both offered little in the way of content and delivered mediocre speeches.
Wisely, Mitt, Inc. devoted a full hour to honoring the Pauls' with both a complimentary video of Congressman Ron Paul and then the Congressman's son, freshman U.S. Senator Rand Paul of Kentucky took to the podium for a lengthy speech to the crowd. Senator Paul knew his audience. He focused on points of agreement between his libertarian creed and his generally conservative audience (for example, he left aside his criticism of foreign wars).
The last three speakers emerged as stars in three different ways…
Former Secretary of State Condoleezza Rice reminding us of her commitment to American exceptionalism and her unapologetic neo-con foreign-policy. Secretary Rice deconstructed the Obama embarrassment of insulting our friends and promoting our enemies. She brings so much to the table that she would make a great NFL Commissioner.
New Mexico Governor Susana Martinez was the night's biggest surprise. Martinez is America's first female Hispanic governor, and her compelling personal story won the hearts of a very Democrat state.
But this was Congressman Paul Ryan's night. Ryan gratefully and humbly accepted the nomination. His delivery was careful and clear. Midway through his speech he pushed the accelerator. Rather than attack President Obama he expressed a sincere midwestern sorrow for the man.
Not serving as an attack dog — Ryan reminded us that Obama has not kept his promises. Like a surgeon trying to save a severely injured patient Ryan regretfully offered an understandable diagnosis but presented realistic hope and a path toward American regeneration.
Ryan pledged that his can be fixed. Ryan noted he is a generation younger than Romney. Their music is different. The contrast between Ryan and Vice President Biden could not be greater. Paul Ryan argued that Obama's old slogans were not working anymore — that the Obama magic was gone and lost forever.
Most people would not think that Mitt Romney is a gambler. But that was the essence of Bain capital — choosing which businesses to buy to make it stronger and more profitable. Many of his bets resulted in huge levels of success. Some of them failed. But with careful investigation and sober judgment it is what made Romney a successful entrepreneur. Romney also took a chance by choosing Ryan. It may be the best bet of his life.

Oh yes, you can see videos of all of the convention speeches on your computer right here.