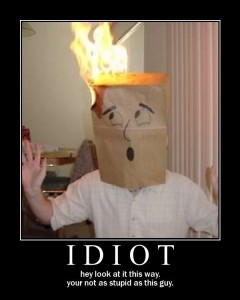 We're playing a little bitch of catch-up with our "Idiot Of The Week" feature — with this seventh installment actually catching us up from last week…
The FlashReport Idiot Of The Week Award is bestowed upon that pubic official (or high profile person engaged in politics or public policy) who does something completely idiotic.  With a state as large as Californian, which seems to have a higher-than-average amount of folks who either don't think about what they do — or even worse, they think about what they do and still act like idiots — we suffer from no shortage of potential award winners.  As in previous columns, we start first with the runners-up in no particular order, and then onto the big prize.  Oh yes, don't be shy or timid in sending along suggestions to us for next week's award recipient — many of those featured come from tips from readers like you!
Drum roll please…
Runner-Up #4 — Governor Jerry Brown.  When idiotic things happen in the state bureaucracy the buck stops with the man elected by the people to be in charge of it.  In this particular case, the fine folks over at CalTrans simply can't get their spending addiction for public relations consultants out of their system.  It was just a few weeks ago that Brown put the kibosh on a $10 million PR contract to promote the soon-to-open-after-massive-cost-overruns Bay Bridge.  But Brown has not stepped up to stop CalTrans from issuing a $9 million contract to TMD Group for a three year campaign to encourage people to ride… Amtrak.  Seriously, you can't make this up.
Runner-Up #3 — U.S. Representative Linda Sanchez. Sanchez has authored H.R. 793, which she calls the "Firearm Safety and Buyback Grant of 2013" — which amounts to a new federal 10% tax on the sale of all "concealable" firearms (a.k.a. handguns) and then making these funds available to local governments for gun buy-back programs.  A new federal levy on handguns is just another form of gun control — that would primarily negatively impact the ability of law-abiding people of low or moderate income to reasonably exercise their Second Amendment rights.  You want to know how to fund gun buy-back programs — turn around and resell those guns collected that are legal and in good shape to law abiding citizens.  In the meantime, a federal firearms tax is a dumb idea.
Runner-Up #2 — State Senator Bonnie Lowenthal.  Last week the Senator presided over what was supposed to be an oversight committee hearing on high speed rail.  Lowenthal did such a pathetic and lame job running this hearing that Sacramento Bee columnist Dan Walters called it, "a joke" — seriously.  Lowenthal cut-off legislators who were skeptical, limited public comment to three minutes at the end of a hearing she restricted to one hour, turned off microphones of public speakers who said bad things about management of the project, ands he claimed she had to adjourn the meeting because the hearing room was reserved — but it was empty 30 minutes later. Of course the hearing was held the day after the Academy Awards and we know that Ms. Lowenthal had other things on her mind.
Runner-Up #1 – State Senator Bill Monning.  In case we need a reminder that there are still idiotic legislators trying to run a "nanny state" — Senator Monning was apparently channeling his inner Michael Bloomberg when he proposed SB 622 — a penny per ounce "soda tax" on sweetened beverages.  Apparently Monning thinks that it is his job, and that of the State of California, to deal with other people's obese children.  Sounds like more idiotic social engineering to us — and an effort to penalize people who have done nothing wrong.  SB 622 is one of many new tax increases proposed by Democrats who now control super-majorities in both legislative chambers.
AND NOW IT IS TIME FOR THIS WEEK'S TOP AWARD WINNER!
The FlashReport Idiot Of The Week Award goes to:
The San Bernardino City Council! (See them all here.)
No doubt you have read about the fact that San Bernardino has filed for Chapter 9 bankruptcy protection.  Not surprisingly, top city staff members have or are planning to resign.  Recently the interim City Manager announced her departure, thus setting the table for the City Council to hire a new City Manager. Apparently the man the city council hired for the job, Allen J. Parker, actually has some relevant experience dealing with the issue of bankruptcy — because in 2011 he and his wife filed Chapter 11 themselves!   Apparently the Parkers racked up around a half-million dollars more in liabilities than they had assets.  Now, in defense of Parker, he apparently fully disclosed his BK to the council before they offered him the job.
According to the Riverside Press Enterprise:
Mayor Patrick Morris, who selected Parker to succeed Interim City Manager Andrea Travis-Miller after she announced last month she was leaving the city, was out of town and couldn't be reached for comment.
His spokesman, Jim Morris, said the mayor and council members were aware of the bankruptcy before hiring Parker.
They "discussed its issues and evaluated it in light of being able to make use of (Parker's) expertise," Morris said.
I'm telling you – this stuff cannot be made up.  A bankrupt city hires a new city manager who has, himself, recently gone through a personal bankruptcy.  Idiotic.
______________
Until next week… And remember, keep sending in those nominations!