Is anyone still buying the idea that government workers are "public servants," and so valuable they must be paid so much more than their counterparts in the private sector? Or are some just better scammers?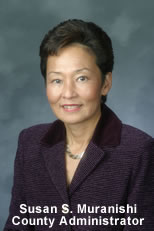 Alameda County Administrator Susan Muranishi is currently paid more than $420,000 in pay and benefits… and she will receive more than $420,000 annually for the rest of her life.
"The County Administrator is responsible for the implementation of policies and decisions of the Board of Supervisors," the Alameda County website says. She's the top secretary. It's what we used to call today's 'administrators.' Her office is responsible for managing the clerical support work for the County Supervisors.
ABC News in the East Bay reported Susan Muranishi is paid a base salary of nearly $302,000. And Muranishi is allowed to pile on more than $121,000 in other compensation, including factoring in 10 percent more pay than anyone else in the county, equity and longevity pay, an annual performance bonus, $9,000 a year for serving on the county's three-member Surplus Property Authority and $54,000 a year in "longevity" pay for having stayed with the county for more than 30 years, as well as a car allowance. Her annual salary now tops $423,000. That's the highest for any county administrator in California.
"Annual performance bonus?" How is a performance bonus paid annually a bonus? Longevity pay? Surplus Property Authority? What is this garbage?
"The obscenely exorbitant salary received by the CAO of Alameda County reveals a fundamental disconnect between our public leaders and ordinary citizens," said Jon Coupal, President of the Howard Jarvis Taxpayers' Association, in a statement,. "The 'guaranteed salary for life' is particularly galling and will burden Alameda County taxpayers for decades."
With a multimillion-dollar deficit, Alameda County public employees have the second highest average salaries in the state, a recent study reported. And those salaries average over $69,000 per year.
When the top secretary is making more than the governor, something stinks in the Golden State… and it smells like public employee unions.