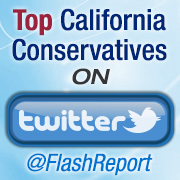 Despite the fact that California these days is politically dominated by the axis of big government – public employee unions and radical left-wingers, there are still a lot of conservatives here in the Golden State.  And we care about the future of our communities, our state, and our country.  Conservatives are engaged in many ways, especially using social networking tools.  One of those tools is Twitter.  Over the last couple of months I have been working to compile a list of the Top 50 California Conservatives on Twitter.  Between people I have been following and the overwhelming amount of input from our readers, I had several hundred conservative tweeters from whom to choose.
What criteria did I use when looking for the Top 50?   There were really three subjective passes at the list to cull it down.  First and foremost – does the tweeter live in California?  Next was whether an individual was, in my opinion, conservative.  For this purpose, I primarily looked at whether the person was someone who embraces a limited role for government in our lives, and embraces liberty and freedom.  The third pass through the list was whether or not the individual is "effective" on Twitter.  Some of the factors considered in that process included:
Do they tweet on policy and/or politics?
Do they tweet and/or RT original content on policy and/or politics?
Do they link to great online sources of information?
Do they tweet too much non-political content to the point it diminishes political impact?
Do they tweet so much that it diminishes political impact?
Oh yes, I didn't include anyone on the list who tweets anonymously, meaning using a twitter name not associated with a identifiable person.
The list is below, alphabetized by the last name of the individual.  I have also uploaded the list as a Word Document.  Finally I have created a Twitter List of the Top California Conservatives On Twitter.
I think when you review the list you will find it runs the gamut – from Hollywood celebrities and radio talk show hosts, to elected officials and activists.  Conservatives all!
In closing, I have no doubt that with a process like this, some deserving people were overlooked, and I am hopeful that those names will get to me.  If they are a clear oversight, we'll pop them onto the Twitter List.
TOP 50 CALIFORNIA CONSERVATIVES ON TWITTER
Compiled by Jon Fleischman