Part l of two stories about the reality of California's water supply
Whether or not California's drought conditions are brought on by alleged "global warming," most agree the state is lacking rainfall. What many in the state refuse to acknowledge is that this is actually typical; drought occurs 40 percent of the time in California. It's not unusual.
However, government and public officials with an agenda of opportunistic control are fueling the melodramatic media coverage of the state's rainfall shortage. And many of these same officials have been mum about the state's historical lack of adequate water storage, despite an increasing population.
Rationing shortfalls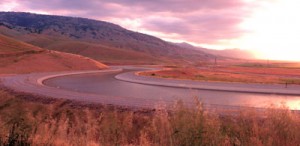 In inland Sacramento, there is no watering is allowed on Mondays, Thursdays or Fridays. The city has recruited North Korean-style neighborhood water spies, and is now paying "Water Ambassadors" to issue water tickets to violators.
News reports throughout northern California claim Sacramento residents are wasting water, while touting the strict water restrictions San Francisco Bay Area and Southern California residents live under.
Yet water usage statistics do not take into account Sacramento's dry, inland location and climate, the hundreds of thousands of acres of agricultural land throughout the region, or the two major rivers and Delta located in the region. Much of the Sacramento region's abundant water supplies the San Francisco East Bay.
In addition to the restrictive water usage policies, the City of Sacramento has notified residents who grow and work community gardens, they will not be allowed to water the gardens this year, thereby forcing these amazing plots of abundance to lay foul.
How much water can 13 city community gardens use, compared to the rest of the state? These gardens provide fresh vegetables and fruits for many people in underserved communities and "food deserts," and are worked and managed by many retired persons. It is not only incredibly shortsighted for city public officials to target community gardens, but an abusive bully tactic aimed at people who will not fight back.
Community gardens in Sacramento have been convenient public relations events for city officials, yet are being sacrificed as soon as these same officials deem them politically inconvenient.
A real water shortage
Sacramento County residents get more than 80 percent of their water from wells, through 27 different water districts in the region. Diminished river flows have relatively little effect on the actual ground water supply, or water usage in the area.
Central Valley wells are tapped out. The Santa Cruz area gets less than 5 percent of its water from underground wells. Yet Southern California reservoirs are 96 and 86 percent of capacity. How?
To understand the magnitude of the motive behind the push for water use cutbacks, one only need to remember the now-famous quote from former Obama White House Chief of Staff, Rahm Emanuel: "Never let a serious crisis go to waste."
In other words, capitalize as much as possible on suffering.
Despite the abundance of Sacramento well water, in 2004, Gov. Arnold Schwarzenegger signed a law mandating water meters be installed in residences and commercial buildings statewide by 2025. Many in the Capitol say this bill was directly aimed at regulating Sacramento residents. And Sacramento lawmakers voted for the bill.
The order to put all Northern California residents on water meters is an attempt to harness the abundance of Sacramento water that the city does not really rely on, or use, but will be diverted to Los Angeles and surrounding areas.
Water is as political as money.
Sensational drought
California's drought has received national mainstream media attention, largely to help sensationalize the drought, rather than highlight the hypocrisy. Specifically, the Bureau of Reclamation and California Department of Water Resources drained northern California reservoirs last summer. This has caused dramatically low flows of water in the usually rapid flowing Feather River and American River. And this water has filled Southern California reservoirs, which is not a bad thing, but should be addressed.
According to fishery organization, California Sport Fishing Alliance, during recent droughts, more than 6 million acre feet of water storage was reduced in Shasta, Oroville and Folsom reservoirs. "The Department of the Interior gave away more approximately 450 thousand-acre-feet of water in 2011 and DWR exported more than 826 TAF more water that it had said it could in 2013," the CSFA explained in February.
At a February hearing CSPA's attorney followed up by pointing out that both project operations and the State Water Board's order regularly ignore and violate long established regulatory standards and California's system of water rights.
The hearing was conducted by the State Water Resource Control Board, regarding the drought urgency petition filed by the Department of Water Resources and U.S. Bureau of Reclamation and the Water Board's temporary order, issued on 31 January and revised on February 6, that weakened water quality and fish protection standards for the Delta.
NEXT: Part ll, Misinformation campaign on water usage and conservation