California Governor Jerry Brown told a group of scientists in a speech on Monday that California is at the "epicenter" of global warming.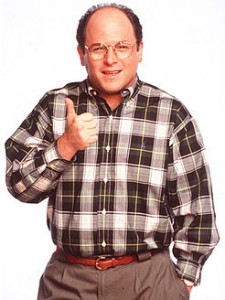 Only a few days prior, Brown blamed climate change for the rash of major wildfires in San Diego County.
Last week, Brown said that within a couple hundred years the seas could rise up to four feet, and put the Los Angeles International Airport under water. Brown's statements brought back to mind George Kastanza from the Jerry Seinfeld show who famously said, "It's not a lie if you believe it."
I wonder if climate change is to blame for California being rated the worst state in the country for business?
At a recent press conference on the state budget, Brown said, "If that happens, the Los Angeles airport's going to be underwater. So is the San Francisco airport." As for the San Onofre nuclear power plant: "You're going to have to move all that … That's billions, if not tens of billions. Luckily, we can take a few years."
Like every other self-aggrandizing, mercurial environmentalist who refuses to rationally discuss climate change science, Gov. Jerry Brown seized the moment to blame the disasters on climate change on ABC's This Week.
However, Brown's impending doom and "four foot sea rise" scenario were grossly incorrect; LAX is nearly 125 feet above sea level. "At the rate of 0.83mm/yr sea level rise seen at Los Angeles (from NOAA graph above)  it would take 45903.6 years to reach 125 feet, we'd be in a new ice age by then and sea levels would be falling…never gonna happen," Anthony Watts points out, using math, data and actual science. "So, at current rates, Brown's claim is bogus."
Rather than admit committing the verbal equivalent of a fart in church, the governor's office doubled down and instead claimed he "misspoke." 
"Portraying California as the front line of climate change, Gov. Jerry Brown said Monday that the effects of man-made global warming were devastating the state," the New York Times even reported. "We have to adapt because the climate is changing… we have to live with nature, not collide with it," Brown said.
And he said Californians need to adjust to support a series of moves over a long period of time because of climate change effects. "This is something that has yet to fully capture the public imagination," Brown said. "There is still great denial."
Blame climate change for California fires
Following the news that two teens were arrested last Thursday for starting two of the fires near Escondido, and as thousands of north San Diego County residents were being evacuated, Gov. Brown blamed climate change for the wildfires. "The heat is terrible. The last few years have been the driest in recorded California history. They think they've got this thing contained or about to," Brown said on CNN. "But they've got fires all over the place, and most serious of all, California now is a fire season that's 70 days longer. So it's getting longer. And the most serious fires have occurred in the last decade. And so things are getting worse."
"And despite what you may hear in Washington, climate change is a factor here" Brown said. "We've got to live with this. It's not about theory. It's not about politics. This is about fires on the ground, people's homes, firefighters. We're dealing, we're adapting, and it's quite a challenge, let me tell you."
Brown said the dry conditions were caused by climate change, and global warming induced by human activity.
"I tell you right now, it's hot," Brown continued. "I was in San Diego just two days ago. It was plenty hot. Like 100 degrees, something that I've never seen. The humidity is below 10 percent. There's a wind anywhere 8 to 15 miles an hour, depending upon the time of the day. I mean, these are perfect conditions for conflagrations and fires all over the place. So we just hope and pray that a little more cold weather comes along, and we have the equipment."
Brown touched on other contributing elements to the fires, and the importance of wildfire preparedness and adaptation. But Brown is no different than many in the state who refuse to acknowledge is that this is actually typical; drought occurs 40 percent of the time in California. It's not unusual. What is unusual is that California is rarely prepared for the inevitable droughts.
And Brown and environmentalists also ignore that one fire can produce more carbon emissions than an entire year of auto emissions. Without forest management, one out-of-control wildfire also renders the soil sterile.
Climate is nothing new – it changes
"Climate is intimately involved in our farming and overall land use," Assemblyman Brian Dahle, R-Bieber, told me last year after a hearing. "The forests are overgrown and we need thinning so the forests can handle fire."
A four-term Lassen County supervisor, as well as a farmer and small-business owner, Dahle said wildfires are a disaster that we can see coming well before they happen. He said that current forest management practices have "taken fire out of the system. Well-managed forests thwart wildfires, produce more water in our rivers and streams, and clean our air."
The California Land Conservation Act of 1965, the Williamson Act, has been a state-funded program since 1972 to encourage county participation and long-term protection of more than 16 million acres of productive agricultural land and habitat. But the Legislature voted to stop funding the Williamson Act in 2009.
Enviro agenda is anti-conservation
But forest management and acknowledging that the climate naturally changes doesn't fit the man-made climate change agenda with leftist environmentalists who insist the cause of natural disasters and fires must be climate change.
According to Brown, "there is no scientific question" about the validity of climate change because the science is "virtually unanimous," and Conservatives and Republicans are deniers.
California is at the epicenter 
California already has implemented our own Cap and Trade system, under AB 32, the California Global Warming Solutions Act, which is increasing the cost of Energy in this state. One severe fire wipes out all of the 'carbon savings' that the California Air Resources Board plans to get, through increased regulation and the continued implementation of AB 32.
California is at the epicenter for financial collapse of this nation.
California is at the epicenter of progressive policy and failure.
While the Gov. Brown and the Legislature work overtime to create policies to save the earth from climate change, one wildfire completely erases all of the perceived carbon reductions. Perhaps a more realistic cause for the drought can be found in natural climate change, some agricultural inefficiency, poor water storage planning, and urban development in arid regions.
"At the core of liberalism is the spoiled child – miserable, as all spoiled children are, unsatisfied, demanding, ill-disciplined, despotic and useless. Liberalism is a philosophy of sniveling brats." P.J. O'Rourke