I've finally got the hard proof I need demonstrating that an IQ test should be administered prior to being granted the privilege to vote.

In Tuesday's election, 287,590 California voters cast ballots for Sen. Leland Yee of San Francisco, in the Secretary of State race. Yee is under indictment by the FBI since April, for arms trafficking and bribery. Yee withdrew from the race, but it was too late for his name to be removed from the ballot.
Yee ended the night with nearly 10 percent of the votes. Of the top two winners, Sen. Alex Padilla, got only 884,857 votes, 30 percent of the votes. Republican Pete Peterson received 871,388 votes, 29 percent of the votes. Yee placed third out of eight on the Secretary of State ballot.
In case you've already forgotten who Leland Yee is, Yee was known as the "California Senate's Top Gun Control Advocate." Democratic State Sen. Leland Yee was indicted by a federal Grand Jury in April on seven federal felonies including bribery, and arms trafficking in illegal firearms and weapons. Yee wasn't just trafficking in tiny pearl handle pea shooters – he was indicted for being involved in trafficking shoulder-mounted rocket launchers.
But remember he was running for California Secretary of State, and According to the FBI affidavit, planned to use  the office to cut deals.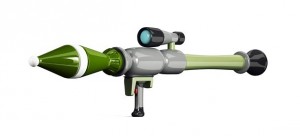 The FBI raided Yee's office at the California State Capitol and the San Francisco Chinatown office of the Ghee Kung Tong fraternal organization, along with known gang member Raymond "Shrimp Boy" Chow.
In the FBI affidavit, Sen. Yee understood money given to his campaign was for the purpose of an introduction to an arms dealer. Yee even told one of the gang members he would be appointed to a Russian delegation when Yee won the election as Secretary of State.
Now, in addition to being known as one of California's leading proponents of gun control, Yee is accused of working with Chinatown gangsters and brokering arms deals with a Muslim rebel group based in the Philippines.
The FBI affidavit also described Yee as involved with gang members, laundering drug money, dealing in cocaine, marijuana, illegal cigarettes, fraudulent credit cards, murder for hire, in addition to the deals with known arms dealers.
Despite these very serious charges, Yee, is free on $500,000 bail.
California's economic suicide
We know many voters are apathetic, and largely tune out politics and politicians, but they still believe in the importance of voting. That's a good thing, but voter ignorance has become worrisome. Facing many more municipal bankruptcies, California is on the cliff of economic meltdown.
We cannot continue on this path:
As California commits economic suicide, albeit slowly, yet Gov. Jerry Brown faces an easy reelection, at this point. That's just crazy.
I came close to writing in 'Gustav Grimes' for governor.  He's my German Shepherd. He's smart. Gustav would never embarrass me, He never voted for Obama. He never bailed out Goldman Sachs. He wouldn't try to reverse Proposition 13.  And since is not a binge eater and only eats what he need to live, he is obviously fiscally conservative.