As the California legislative Democratic Latino Caucus attempts to put two initiatives on the November ballot designed to attract Latino voters, tens of thousands of "unaccompanied alien children," are flooding across the southern U.S. borders illegally.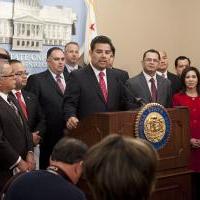 The current infusion of illegal immigrants flooding the borders is expected to grow. The number of unaccompanied, undocumented youth and child immigrants, as young as three-years old, will likely double in 2015 to nearly 130,000, and cost U.S. taxpayers $2 billion, up from $868 million this year, according to estimates from the Obama administration.
While the borders are being flooded, California Senators Kevin de León and Ricardo Lara are trying to overturn California's laws which make it illegal for illegal immigrants to access government entitlement programs, and requiring English-only to be used in classrooms.
De León described Proposition 187 as one of "the most mean-spirited and un-American" measures in California history. Voters approved Prop. 187, twenty years ago.
The day after the election, several groups filed federal lawsuits against it, including the Mexican-American Legal Defense/Education Fund (MALDEF), the League of Latin American Citizens (LULAC) and the ACLU. Two federal judges issued an injunction of Prop. 187, forbidding the implementation and enforcement.
Back to the future
The bills currently in the Legislature, designed to overturn Propositions 187 and 227:
Sen. Ricardo Lara, D-Bell Gardens, has authored SB 1174, the California Education for a Global Economy Initiative, which will place an initiative before voters on the November 2016 ballot asking to amend Proposition 227 which limits public school instruction to English-only. Prop. 228 was passed by California voters, 68 percent to 31 percent in 1998.
Sen. Kevin de León, D-Los Angeles, has authored SB 396, a campaign to overturn Proposition 187, which made illegal aliens ineligible for public social services, public health care services, and public school education at elementary, secondary, and post-secondary levels. Prop. 187 was passed by voters 58 percent to 41 percent.
Another bill, which would provide healthcare coverage to people in the country illegally, has been shelved in a Senate committee temporarily.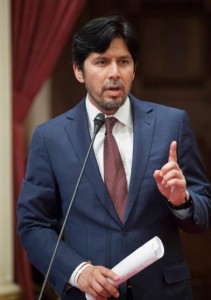 Children flooding the borders
Reports of thousands of thousands of younger than 12, are flooding across the southwestern border in the latest test of the Obama administration's immigration policy. Immigration and Border Patrol agents were instructed by Obama administration officials in Washington to transport illegals from Texas to Arizona. When illegals are dropped off, they are given a court date and ICE simply hopes they show up for the hearing.
Many, including Arizona Republican Rep. Paul Gosar, say this is payback for Arizona's attempts to address their illegal immigration problem in spite of the federal government's inaction.
Homeland Security officials and Obama administration predict an estimated 60,000 such children will pour into the United States this year, up from about 6,000 in 2011.
And now, U.S. border states are trying to figure out how to pay for the food, housing and transportation of this massive influx of children once taken into custody by immigration officials.
Back in CA
California policies make it attractive for illegal immigrants to relocate to the state. The incentives to come to the U.S. are many; currently, the U.S. Government and states have been legislated to provide food, shelter, health care, education, free childcare, and free legal services to illegal immigrants.
Elected lawmakers are once again trying to confuse the immigration issue with emotions. And they are deliberately trying to attract Hispanic voters, and using the tens of thousands of Hispanic children as a voting tool.
Prop. 187 was passed during a serious recession in 1994, and was economically popular after the California Legislative Analyst's Office estimated nearly $200 million per year savings to the state.
Incentives to come to America
Incentive comes from Sen. Ricardo Lara, a Democrat from Bell Gardens. Lara wants to place a ballot initiative on the November 2016 ballot to overturn Proposition 227, which requires English to be used in K-12 public school instruction.
Yet Lara, whose parents came to the U.S. illegally, has clearly and ironically benefitted from generous U.S. and California immigration policy, and now finds himself a California State Senator. His objections to current policy are so obviously unfounded, as he is living proof that anyone can succeed in this country.
Lara has also proposed a student loan program for illegal immigrants. Senate Bill 1210 would appropriate $9.2 million for University of California and California State University campuses for loans to illegal immigrant students, ineligible for federal financial aid and most private loans.
"Many undocumented students still lack the financial wherewithal to pay for school," Lara said at a press conference in May.