The back room deal between the California Grocers Association and United Food and Commercial Workers labor union paid off; Gov. Jerry Brown signed the bill to ban and tax plastic and paper grocery bags… despite that all types of plastic shopping bags can be recycled into new bags.
SB 270 by Senators Kevin de León, D-Los Angeles Alex Padilla, D- Pacoima, and Ricardo Lara, D-Los Angeles, "prohibits stores from distributing lightweight, single-use plastic bags." Padilla is running for Secretary of State.
Immediately after the bill signing, the American Progressive Bag Alliance announced it was preparing to gather signatures for a November 2016 ballot initiative to repeal SB 270.
Governor Jerry Brown has repeatedly said, "There will be no new taxes for the foreseeable future." But the plastic bag ban is also a tax increase on reusable bags, and paper bags — minimum 10 cents per bag — which grocers will pocket.
I remember when plastic bags were foisted on shoppers because cutting down trees for paper was bad. The bags were sold to the public as 100 percent reusable and recyclable.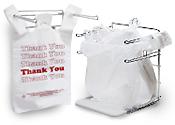 This new bag bill will allow supermarkets and grocers to charge a minimum of 10 cents each for paper and thicker plastic bags, and pocket the money.
SB 270 bans the recyclable plastic bags and replaces them with heavier plastic bags, five times thicker. It is unclear in this legislation how a significantly thicker plastic bag is better for the environment.
The deal between the UFCW and Grocers was made without any change in the legislation — no new amendments, which led many to criticize the dubiousness of the back room deal.
Paper or Plastic?
"Paper or plastic?" has become one of the most recognizable questions in America.
But by 2007, the cause du jour of environmentalists became a political issue and found some  California cities adopting the bag bans.
One of the favorite talking points about plastic bags is that they are rarely recycled. In the SB 270 bill analysis, de León, Padilla, and Lara, say "According to CalRecycle, less than five percent of single-use plastic bags are recycled." Their bill "prohibits stores from distributing lightweight, single-use plastic bags." But this fallacy ignores the fact that a huge portion of grocery and retail plastic bags are reused as garbage pail liners, pet-waste disposal bags, lunch bags, and storage.
Most important, a study by the National Center for Policy Analysis found it is better for the environment to reuse plastic bags as garbage pail liners rather than to recycle them because of the environmental "benefits of avoiding the production of the bin liners they replace." According to the study, an examination of the bag bans and budgets for litter collection and waste disposal in San Francisco, San Jose, and the City and County of Los Angeles, Calif., Washington, D.C., and Brownsville and Austin, Texas, shows no evidence of a reduction in costs attributable to reduced use of plastic bags.
Plastic bags amount to less than 0.5 percent of the waste stream, and a similarly miniscule amount of landfill space.
There was no explicit estimate of the expected savings from the bag ban in San Jose, and data on the ban is still relatively incomplete, according to the NCPA.
Ban the bag ban
In California, there have been at least 15 pieces of legislation to ban plastic bags since 2007. Nearly one-third of the state has already banned plastic bags, including several large cities, demonstrating that bag bans are more appropriately dealt with as a local issue, rather than statewide.
In 2012, the Los Angeles City Council voted to require stores that make more than $2 million a year or occupy retail space measuring more than 10,000 square feet to phase out plastic bags by Jan. 1, 2013; smaller stores have until July 1, 2014. The ordinance required paper bags to be available for 10 cents, with all proceeds going to the stores.
In January 2012, San Jose passed an ordinance banning plastic carryout bags at checkout at grocery, pharmacies and retail stores. Retailers may provide a paper bag made of 40 percent post-consumer recycled content for 10 cents each.
But state lawmakers wanted California to be the first state to implement  a statewide ban on the plastic bags. "This bill is a step in the right direction – it reduces the torrent of plastic polluting our beaches, parks and even the vast ocean itself," said Gov. Brown in his bill signing statement. "We're the first to ban these bags, and we won't be the last."
Paper, Plastic or Bacteria?
I have been writing about the attempts to ban plastic bags for many years, and how the reusable, eco-friendly shopping bags are actually Petri dishes of disgusting bacteria.
Food placed in reusable bags is subject to cross contamination by previous use of the bags, as well as transfer of contaminants during the check-out and bagging process, from one bag to another.
This could also be a cause for concern for grocery checkout clerks, who may, without realizing it, be transferring bacteria from one shopper's bag to the next, as well as contaminating themselves.
Previous plastic bag ban attempts
Sen. Padilla authored a bill last year that would have banned plastic bags statewide, but SB 405, failed to pass by only three votes.
SB 1219 in 2012,  lifted a prohibition on local taxes on plastic bags but extended the sunset of AB 2449, which mandates plastic bag recycling at supermarkets. Governor Brown signed SB 1219 into law September 2012.
All of the bag bills have required grocery stores to maintain records of the bag programs, and make the records available to the local jurisdiction or the Department of Resources Recycling and Recovery upon request.
The progressive left is again conflicted in their thinking over the reusable bag issue. Unfortunately, all of California is going to pay for this conflict.