In some California parallel universe, the new Senate President Kevin de Leόn, announced last week during his flagrant swearing-in ceremony, "Reliance is the 'American Way.'"
"Isn't it time we shatter the great American myth about pulling oneself up by the bootstraps?" De Leon asked the crowd. The audience broke into rousing applause.  De Leon continued, "It's a fantasy.  It's simply not true."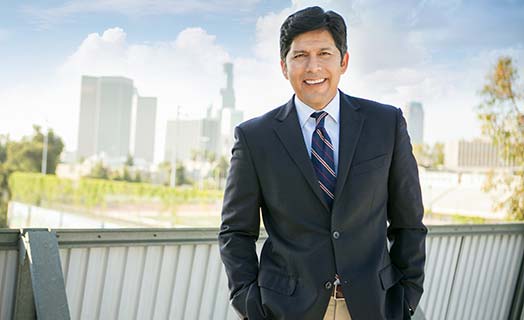 De Leon's "extravagant bash" was held at the Disney Concert Hall where "corporate interests — oil, telecommunications, pharmaceuticals and others who lobby Sacramento — paid for the $50,000 bash through the Latino Legislative Caucus Foundation. National Review Online called the bash a "Kim Jong Un–Style Coronation ."
"Reliance is the 'American Way: Tell that to the 5,000 Gerawan Farming company farmworkers in Fresno who have been trying for more than two years to oust the United Farm Workers union from their workplace. They don't want the entitlement union mentality to creep in to their lives, and want to be free of the reliance. De Leόn, and the entire Democratic Latino Caucus, have ignored the farm workers' pleas for help. Note: De Leon is endorsed by the UFW, along with a long list of labor and far-left organizations.
De Leon: The Rise of the Community Organizer
Democratic Sen. Kevin de Leόn, sworn in last week as the 47th President pro Tempore of the California State Senate, at a Los Angeles soiree with two thousand guests, is sadly mistaken. But how would he know? De Leon's "only work in a productive capacity was as an instructor at One-Stop Immigration and Education Center in Santa Barbara," NRO reported.
"Following that he became an official at the National Education Association in Washington, D.C., before returning to California to organize for the California Teachers Association. He has never worked in any for-profit job."
De Leon was a community organizer before running for public office. Outside of Democratic Party politics, no one really knows what  "community organizing" is, other than a type of prep school for Democratic public office.
De Leon's Policy World
De Leόn, D-Los Angeles, has authored and supported many bills to take away Americans' Second Amendment rights, forcing Californians to be 'reliant' on the state's police for protection.
SB 199, by  de León, now requires BB and airsoft guns to be painted bright colors to make them "readily identifiable" so law enforcement officers can distinguish them from real firearms.
AB 1014 Authorizes Gun Violence Restraining Orders against family members.
Senate Constitutional Amendment, co-sponsored by de Leon, SCA 5 would have reinstated affirmative action in California's universities, despite it being banned since 1996 because of voter approved Proposition 209. While SCA 5 was introduced by Los Angeles-area State Senator Ed Hernandez, Kevin De León was an enthusiastic and vocal supporter of the measure.  It easily passed the State Senate, but was killed in the State Assembly due to strong opposition from Asian Democratic members.
De Leόn was a co-author of the plastic bag ban.
He's been behind numerous bills to increase taxpayer spending on dubious environmental projects, and tax breaks for Hollywood, driver's licenses for illegal immigrants, and repeal of key elements of the voter-approved Proposition 187.
De Leon supported Proposition 30, passed by voters in 2012, "temporary" income tax increases on upper incomes, and a sales tax increase on everyone. Now lawmakers are pushing to have this temporary tax extended indefinitely.
De Leόn authored SB 967, which declared sex "a contractual event," redefined consensual sexual relations as "rape" if it occurs on a college campus. Instead of addressing the degrading hook-up culture young people have come to accept, De Leόn's ridiculous bill will allow California colleges and universities to bypass police departments, and deal internally with campus sexual violence by requiring each school to adopt Legislature-approved "victim-centered sexual assault response policies and protocols that follow best practices and professional standards."
This bill violates the due-process rights of young men, and forces young women to rely on hysterical feminists for guidance and "justice."
Who is De Leon?
"De Leon's rise to one of the most powerful political positions in the state came even after his name surfaced in a federal corruption probe against a fellow state lawmaker," reported a story from the Associated Press, also posted on Sen. Norma Torres' website:
"De Leon's name was mentioned dozens of times in an FBI affidavit that accused suspended Sen. Ron Calderon, D-Montebello, of accepting about $100,000 for himself and family members in exchange for promoting legislation seeking to expand Hollywood tax credits and to protect the financial interests of a hospital that benefited from a provision of California's workers' compensation law.
De Leon accepted $5,000 in campaign contributions from an undercover agent, money he returned to the FBI as soon as he learned it came from an undercover agent."
"He was subpoenaed by federal prosecutors but has a letter saying he is just a witness in the case and is not a target. No charges have been filed against de Leon, and the U.S. attorney's office in Los Angeles declined to comment Monday.
De Leon took questions from reporters after the Senate vote but abruptly cut off the session after he was asked whether the investigation might affect his role as Senate leader.
Calderon's legislative efforts ultimately failed to gain traction, in part because of opposition from de Leon."
California is Broke(n)
California currently has a real annual state budget deficit of more than $10 billion, has unfunded public employee pension and healthcare liabilities of more than half-a-trillion dollars. More than one-third of the nation's welfare cases are paid for in California.
"There was nothing in De Leon's speech about these harsh realities. Because while he was justifying 'reliance,' the California media nodded in sync, right along with him," Fox News Contributor Richard Grenell wrote:
"Isn't it time we shatter the great American myth about pulling oneself up by the bootstraps?" De Leon asked the crowd. The audience broke into rousing applause.  De Leon continued, "It's a fantasy.  It's simply not true."
"But de Leon didn't stop there. 'Every single one of us, whether rich or poor, is relying on someone else for our own success,' he said. De Leon proudly says, 'And reliance, reliance is nothing of shame — it is the American way.'"
"Ladies and Gentlemen, if you ever thought that the American dream was under assault, that Democrats are out to encourage Americans to learn to love a handout instead of hard work, here's proof," Grenell rightly asks. "It's no wonder businesses are leaving California every day.  California Democrats are out to kill the American dream by ridiculing the commitment to hard work."
A comment left on the "Reliance speech" youtube video also rightly answered up De Leon's speech:
"You are pathetic and wrong  DeLeon, this nation was NOT founded on the principals of reliance, cowardice and laziness. It was founded on the principals that a man or woman had the freedom to make of their life whatever they chose and whatever they could. We were not guaranteed success, wealth or even life. We are guaranteed the chance to strive."