The contest for Secretary of State between Republican Pete Peterson and Democrat Alex Padilla appears to be a classic race between a citizen politician and a career bureaucrat. Padilla, 41, is a termed out State Legislator, and a former Los Angeles city councilman. Peterson, 47, leads the Davenport Institute for Public Engagement and Civic Leadership at Pepperdine University, is a business owner, and was the first Executive Director of Common Sense California, a bipartisan, nonprofit "think-and-do tank" devoted to improving civic participation in California.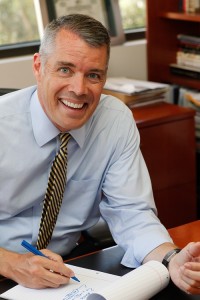 Their "top two" primary race in June was very close though only 25 percent of registered voters in California actually voted.
As a long-time legislator, Padilla has ushered in many big-government laws.
He succeeded in passing the first statewide plastic bag ban in the country making it illegal for California grocery stores to use plastic bags at checkout despite that one-third of California's cities and counties already outlawed them.
Padilla authored legislation making it illegal to smoke in your own apartment.
Padilla also introduced a bill to force operators of private ambulances to go to the expense of labeling their vehicles with the word "contractor," inferring that the public doesn't know some ambulances are privately operated — even as the company name is emblazoned on the vehicle.
This is a bill looking for a problem. SB556 is not about public safety, and instead is about giving a payoff to the public unions that operate city-owned ambulances, and want to stigmatize private operators.
This bill should come as no surprise; Padilla has received two donations totaling $26,200 from the California Professional Firefighters union. The union has also endorsed Padilla in this race.
Perhaps all this is why the Howard Jarvis Taxpayers Association gave Padilla an "F" grade in 2013, and why the National Federation of Independent Business gave the legislator a failing grade for his anti-business votes.
Interestingly, Padilla wasn't even able to garner the endorsement of the Los Angeles Times, despite its long history of backing Democrats. The Times endorsement went to Peterson, who also received endorsements from the San Francisco Chronicle, and U-T San Diego.
It is obvious why: One of Peterson's most important issues is electronic voting. While technology has made life easier in many ways, California's voting technology is inadequate, according to Peterson. He is alarmed that California ranks in the bottom five states in the use of technology in the voting process.
"There is no reason for this with today's technology," Peterson explained. "California is home to the best graphic designers and technology experts in the world, but you'd never know it from the way our elections are run."
A recent study commissioned by the State of California confirms this. The study found serious security issues in every electronic voting system tested. Current California Secretary of State Democrat Debra Bowen admitted to these issues, even though she ran for office on a platform of implementing high-level electronic voting advancements. Peterson says California needs a non-political chief elections officer who is committed to the difficult task of modernizing the state's election system, creating transparent political campaigns, and advocating for the needs of voters.
"Voters need to know you can do things in a non-partisan way," Peterson said. "I don't think [Padilla] wants this office, I think he wants the next office," Peterson said in June. I've pledged not to run for any other office for four years if I'm fortunate enough to be elected secretary of state. This is my dream job, and I've trained hard for it."
Story originally appeared in  Government Center Gazette & Van Nuys Press.
Katy Grimes is a political investigative journalist, columnist and Capitol reporter, based in Sacramento.