New Jersey Gov. Chris Christie sounded very much like a presidential candidate at the California Republican Party convention Saturday in Sacramento.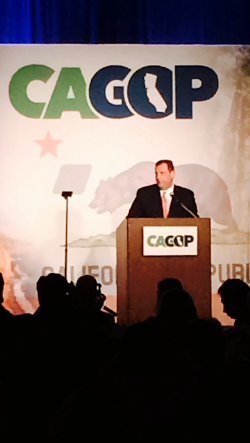 Christie, who enjoys a higher approval rating in blue state New Jersey than President Barack Obama, said he's built trust and confidence by being a conservative. And he was critical of Obama for dividing the country during his time in office.
Christie said media in the coming months will say Republicans can't afford a long nomination battle and should "unite behind whatever candidate appears to have the most money, the most endorsements or the best press coverage."
He reminded the Republican audience that former President Ronald Reagan didn't win the presidential nomination until May of 1980, and Barack Obama didn't win the Democratic nomination until June 2008, and added that Republicans do not need to rush to choose a 2016 presidential nominee under pressure from consultants and pollsters.
U.S. in Decline
"Our influence as a nation is in decline," Christie said. "We are embarrassed by Russia and China."
Christie noted the vast difference between President Obama and Prime Minister Benjamin Netanyahu of Israel, and used Netanyahu's upcoming speech to Congress as an example. "President Obama and the White House urged Democrats to boycott his speech, That is a national disgrace."
Christie channeled Ronald Reagan, as so many candidates do, and quoted heavily from Reagan's speeches:
"Never before in our history have Americans been called upon to face three grave threats to our very existence, any one of which could destroy us. We face a disintegrating economy, a weakened defense and an energy policy based on the sharing of scarcity," Christie said, quoting from Reagan's acceptance speech for nomination of President. "The major issue in this campaign is the direct political, personal, and moral responsibility of Democratic Party leadership – in the White House and in the Congress – for this unprecedented calamity which has befallen us. They tell us they've done the most that humanly could be done. They say that the United States has had its day in the sun, that our nation has passed its zenith. They expect you to tell your children that the American people no longer have the will to cope with their problems; that the future will be one of sacrifice and few opportunities. My fellow citizens, I utterly reject that view."
"That sounds like the truth," Christie said, "like a leader willing to tell the truth to the American people."
"Ronald Reagan believed, like I do today, we are a country that has already risen to the challenge. The people of this country need to be asked."
Christie's Battle With Unions
Christie addressed his ongoing battle with the teachers union in New Jersey. "Just this last week the unimaginable happened. We signed the roadmap with the teachers union," Christie said.
Christie said he has been quietly negotiating with the teachers union for five months, and recently came to an agreement. Christie called on the New Jersey Legislature earlier this week "to solve a problem that is so big that doing nothing will only ensure our state's fiscal standing will never improve and we will never grow economically."
"I want a United States of America that doesn't just talk about exceptionalism," Christie said. "We have to fight to achieve potential. The American people are ready for a fight.
"Ronald Reagan understood the resiliency of our people," Christie said. "He believed, just like I do today, that this country and its citizens can accomplish what is being asked of them."
"I'm going to fight the fights that are worth for saving our country," Christie added.
Advice from a guy from New Jersey
"Here's some advice from a guy from New Jersey – don't be afraid. There's always someone ready to tell us conservatism isn't the way.
Christie shared stories of his Sicilian mother and Irish father, both immigrants, and added, "When we decide who a leaders should be, we need to know who they are and where they come from."