The epitome of special interest legislation was recently introduced, but the special interest is state government.
"Sacramento's Worst Boss" may be carrying legislation for Sacramento's worst state employee. Assemblywomen Nora Campos, D-San Jose, has authored legislation on behalf of the Agricultural Labor Relations Board General Counsel, to grant the general counsel unheard-of authority.
AB 561 would grant Sylvia Torres Guillén, the ALRB general counsel, "primary authority with respect to the calculation and litigation of makewhole awards, backpay calculations, and other monetary awards in compliance proceedings of agricultural employers before the board."
In other words, Torres Guillén would have unlimited authority over the contract negotiations with agriculture employers and farmworkers.
Keeping an apparent wicked agenda, Torres Guillén has targeted several big farming employers with a vengeance, as well as some ALRB staff, since being appointed in 2011 by Gov. Jerry Brown.
Many in the vast California farming community claim the Agricultural Labor Relations Board and United Farm Workers labor union have joined forces to boost the size of the flailing union by targeting one of the biggest non-union farming operations in the state. Should they succeed in unionizing Gerawan Farming employees, adding the 5,000+ farmworkers would more than double union membership.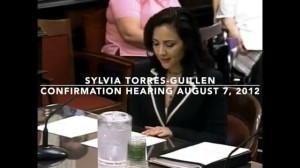 By all accounts, the ALRB has been a quiet state-sponsored accomplice for the United Farm Workers in the union's combative relationship with Gerawan Farming. And since 2011, the ALRB General Counsel Sylvia Torres Guillén has been behind most of the combat.
The UFW won an election to represent Gerawan Farming Company's workers 23 years ago. But after only one bargaining session, the union disappeared and wasn't heard from for more than 22 years. However, in October 2012, the union reappeared to impose a contract on Gerawan Farming and its employees — without a vote of the workers.
'Sacramento's Worst Boss'
I made a personal visit to Assemblywoman Campos's office, called her office four times, and sent an email, all requesting some background and discussion about AB 561. Assemblywoman Campos's Chief of Staff Sailaja Rajappan did not return my calls. Her staff was polite, but told me they "were not authorized to talk to press."
When legislative staff members refuse to discuss a bill with the media, all is not well in the motive department.
Campos has been in the news recently; she was named "Sacramento's Worst Boss" in 2014 by SanJoseInside.com following reports of of angry outbursts, firings, and excessive turnover in Campos's Capitol and district offices. "In just her first three years in Sacramento, Campos had 41 people work in her office. No one from her original staff remains," SanJoseInside.com reported.
And the report isn't any better one year later. "Records obtained from the Assembly Rules Committee show that since Campos, D-San Jose, took office at the end of 2010, 46 staffers have started work for her," the San Jose Mercury News reported just last month. "About two dozen have left since Sailaja Rajappan joined the office as chief of staff in November 2012. Former staffers say Rajappan was unduly antagonistic, dressing down aides in front of their peers for failing to meet her often-shifting demands and standards."
"It's not the first time Campos' office has seemed to be in disarray; accusations about her staff churn date back to her days on the San Jose City Council."
Why Does Sylvia Torres Guillén Need AB 561?
Several recent official board decisions by the ALRB, denied Torres Guillén the authority to proceed with several of the cases she's been prosecuting, without first seeking 24 hours permission from the Board should she wish to seek injunctive relief, defenses and appeal decisions.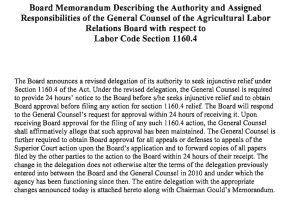 This must not have set well with Torres Guillén. The most recent decisions came on March 6, 2015, a full two weeks after AB 561 was introduced (see screenshot on left). She has a history of appealing legal decisions which don't go her way.
A legislative solution for Torres Guillén is somewhat twisted, given the Legislature has been silent on the historic abuse of power the ALRB has exerted over Gerawan Farming and it's thousands of workers who do not want union control of their workplace or work lives, as well as other farming operations targeted by the UFW and ALRB. The workers have appealed to the legislative Latino Caucus, individual legislators and the governor, for intervention and oversight with the ALRB, and specifically, Ms. Torres Guillén, but to no avail.
ALRB General Counsel Sylvia Torres Guillén has led contentious, nasty legal cases against agricultural employers in California over United Farmworker Union demands, according to many observers, including thousands of farm employees who don't want to be unionized.
Torres Guillén went to court last spring to impose a union contract on Gerawan Farming employees, without proper input from the farm workers, and without counting the ballots of a November 2013 United Farm Workers union decertification election, held by the workers.
This state-sponsored union bullying effort was initiated only a couple of weeks after longtime Gerawan Farming employee, Silvia Lopez, filed a federal civil rights lawsuit against ALRB board members and top staff, for their refusal to count the ballots from the November election.
Of the hundreds of thousands of farm workers in California, only 3,000-4,000 are members of the UFW. The ALRB was created in 1975 "to ensure peace in the fields of California by guaranteeing justice for all agricultural workers and stability in agricultural labor relations;" and not just those the United Farm Workers Union chooses.
This isn't Torres-Guillén's First Rodeo
This isn't Torres Guillén's only trouble.
In October 2014, a long-time attorney with the ALRB filed a discrimination and harassment lawsuit against ALRB General Counsel Sylvia Torres Guillén, and ALRB attorney Alegria de la Cruz.
Plaintiff Francisco T. Aceron, Jr. has been employed with the ALRB since year 2000 as Legal Counsel. By 2003 Aceron was promoted to Assistant General Counsel ll, a position he held for more than 11 years, the complaint says.
But by 2011, that all began to change when Gov. Jerry Brown appointed Torres Guillén General Counsel.
"In August, 2011, Govemor Brown appointed Sylvia Torres Guillén as the new General Counsel for the ALRB. In December 2011, Governor Brown appointed Alegria De La Cruz as the new Supervising Staff Counsel."
"By late 2011, many of Plaintiff s older colleagues had been forced out of their long term positions at the ALRB, and replaced by new attorneys with 5 or less years of legal experience, all under the age of 40," the complaint alleges.
Aceron's lawsuit identifies many ALRB legal employees who were allegedly forced out of the agency by Torres Guillén and De La Cruz.
Mosat interesting is Assemblywoman Nora Campos does not list current legislation on her official Assembly website as of March 16, 2015.