On April Fools Day, Gov. Jerry Brown issued an Executive Order limiting the duration of Californians' showers. However, this was no April Fools joke.
Sounding once again like Weird Uncle Fester on ABC's "This Week," Brown said Californians can expect to be hit with heavy fines for taking long showers. Using the enforcement power of the state water board, Brown said people can be fined $500 a day for failing to comply with the new water restrictions and shower allowances – whatever those restrictions really are. "(Water) Districts can go to court to get a cease and desist order," Brown said. "The enforcement mechanism is powerful. In a drought of this magnitude, you have to change that behavior and you have to change it substantially.
During this drought, city and county governments are still running sprinklers and wasting water as though there is no drought, yet now imposing penalties on citizens who violate unclear water policies.
What will happen to shower offenders? Will the state water police perform a black-ops take down of your home, demanding you "Turn off the water, drop the shampoo bottle, and step out of the shower with your hand up!"
Brown the Environmentalist
In 1996, Salon.com published an interesting interview with Brown, revealing his deep and old-school environmental roots, blaming science for the ills of industrialized society. Sounding positively Dickensian, Brown said, "We're living in an unsustainable situation that is
taking us in the direction of catastrophe–social, moral and ecological."
"And it is my interest, perhaps my vocation, to resist that, and to work with 
others to provide positive alternatives," he added.
This was during the time Brown had his "We The People" political organization, and was hosting a daily radio 
show.
Brown explained becoming even more radical:
"I certainly was very much attracted to being governor. But I know more now. I learn, I study, I listen, I observe. I've traveled, I've talked to people. I've had the privilege of listening to Gregory Bateson, Mother Teresa, Ivan Illich, Gary Snyder and, more recently, Noam Chomsky. These people are not looking at society in the conventional way, but in a deeper and more honest way. And the insights from these very different people lead me to a critical position."
As I write this, it is thankfully raining cats and dogs in Sacramento. And thankfully, I don't talk to the same people Brown does.
Brown continued:
"There were certain recurring themes (in my administration): 'protect the earth,' 'explore the universe,' 'serve the people,' 'Spaceship Earth.' This was the mid-1970s. It was the time of the Whole Earth Catalogue. I was dealing with people like Stewart Brand, Wendell Berry, Amory Lovins, Herman Kahn and Dick Baker from the Zen Center. I mean, it was a hotbed of ideas. And there was a sense that we were on the threshhold of a new politics. We were building something new. It was very exciting."
I'm surprised he didn't say, "Groovy, man." Brown sounded absolutely bizarre in the interview.
Drought Reality
Brown has shown again that his ideas of governing have very little to do with leadership, and are instead about control.
Water officials say the snowpack is already far below the historic lows of 1977, ironically when Jerry Brown was governor the first time.
One would have thought that having been governor during the last really big drought, Brown may have taken the idea of more water storage a little more seriously this time around — especially since California has water storage for 10 million residents, and the state has grown to 38 million.
While Brown declared a drought emergency last January, he ignored calls to seriously address dramatically needed water storage, and instead continued to call for more water conservation measures. The State of California lets rain and the snow melt run right into the ocean rather than capturing this much-needed water. Environmentalists have stymied efforts to build new reservoirs, favoring helping the non-indigenous Delta Smelt fish over growing food in the Central Valley, which feeds the entire country.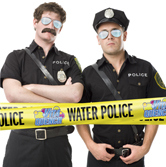 Playing With Stats
According to the Los Angeles Times, "the past two years are the driest period in downtown Los Angeles since records were kept." What the Los Angeles Times left out is the past two years are not the driest in California geological history, revealed through core samples.
The Los Angeles basin historically has been drier than has been currently reported because the Los Angeles basin is a desert. The 20th Century is actually the wettest in the thousands of years, when measured geologically. And there's nothing the carbon offset scheme can do to change it. Climate is cyclical, and much bigger than cap and trade, and offset credits purchased by guilty liberals.
William Mulholland designed and built the Los Angeles aqueduct, which originally carried water 233 miles from the Sierra Nevada Mountains to Los Angeles—allowing the small, resource-challenged desert city to grow into a modern global metropolis, according to Les Standiford, author of "Water to the Angels: William Mulholland, His Monumental Aqueduct, and the Rise of Los Angeles."
Brown-Out On Showers
The State Water Resources Control Board adopted new drought policy and regulations to give local agencies the authority to fine water wasters up to $500 a day. But these board members appear to be government stooges and radicals hell-bent on extracting environmental justice from California residents:
Included on this Board are a former California Air Resources Board member, a director of international programs for the National Audubon Society, and previously a legislative assistant for the Animal Welfare Institute, a former Western Director for the Natural Resources Defense Council, a member of the San Francisco Bay Regional Water Board and a Cal/EPA Deputy Secretary, in charge of environmental justice and external scientific peer review activities. These environmental radicals are in charge.
Brown said, "This executive order is done under emergency power. It has the force of law. Very unusual. It's requiring action and changes in behavior from the Oregon border all the way to the Mexican border. It affects lawns. It affects people's — how long they stay in the shower. How businesses use water."
"For the first time in state history, the Governor has directed the State Water Resources Control Board to implement mandatory water reductions in cities and towns across California to reduce water usage by 25 percent," the governor's press statement said.
To save more water now, the order will also:
-Replace 50 million square feet of lawns throughout the state with drought tolerant landscaping in partnership with local governments;
-Direct the creation of a temporary, statewide consumer rebate program to replace old appliances with more water and energy efficient models;
-Require campuses, golf courses, cemeteries and other large landscapes to make significant cuts in water use; and
-Prohibit new homes and developments from irrigating with potable water unless water-efficient drip irrigation systems are used, and ban watering of ornamental grass on public street medians.
See Brown's executive Order HERE