Clint Olivier just announced he's running for California State Assembly for the 31st Assembly District. If Olivier's name isn't familiar, be thankful. He's not the son of a politician. He's not from Hollywood. He didn't get independently wealthy as a  hedge-fund manager on oil and coal investments. He hasn't sold rocket launchers to Filipino Muslim separatists, or offered bribes to FBI agents.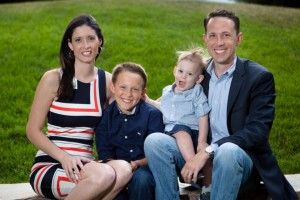 Clint Olivier is a member of the Fresno, California City Council, representing District 7, first elected to the council in 2010, and a former television news reporter. He's married and has two kids.
What makes Olivier stand out?
The pro-business Fresno Chamber of Commerce recently released its 2014 report card of local elected officials and their business-related votes; on the Fresno City Council, Clint Olivier was the only member to achieve a perfect score.
That's a really good start because one of Oliver's top issues is employment, jobs, and helping businesses. "As far as jobs go, the way to get jobs and employers to choose to do business in this part of the state, is through incentives. And, we need to get government out of the way of small and large businesses," Oliver said in an interview. "It's not Republican or Democratic; it's the right thing to do."
Olivier said people desperately want and need economic activity in the central part of the state. "We've lost too many employers – Bimbo Bakeries, Gottshalks, and now Vons grocery store is closing," Olivier said. "I have a reputation for fighting for neighborhoods," Oliver said.
Prior to running for Fresno City Council, Olivier worked as a television news reporter, investigating and exposing government waste and abuse for Central Valley viewers on ABC 30 and KMPH FOX 26.
Olivier served in the Marine Reserves during peacetime as an air support radioman, 1994 to 1998.
Olivier, who lives in South Central Fresno, said his great heart for public service is evident. "I want to win because I've been working for these people for years; first as a news reporter in Mendota during the drought, and Kingsburg. It's all near and dear to me," Olivier added.
He and his wife just bought a small house, he drives a seven year old Chrysler, and makes $60,000 in his city council job.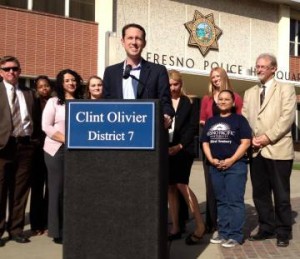 The 31st District has 49% Democrat registration, 29% Republican and the rest if Decline to State. But that doesn't deter Olivier at all. "Many of the people who voted for me are Latino Democrats," Olivier said. One reason for bipartisan support may be because Olivier led the case to repeal an expensive impact fee for building in Fresno. Since the tax repeal, 17 inner city homes have been built with the tax cut.
Top on Olivier's list of priorities along with jobs is water delivery and storage projects – another supposedly bipartisan issue. "California taxpayers are paying billions for new water storage projects," Olivier said. "Nowhere is storage needed more than the Central Valley. Fresno County deserves someone who will fight for increased water capacity for our farms and homes."
Olivier said he is undeterred by the need to fight Sacramento bureaucrats and radical environmentalists, whose policies have constantly cut water for Fresno homeowners and farmers.
Choo Choo Needs To Go Bye-Bye
Olivier wants High-Speed Rail killed and actual investments made in Central Valley growth. "California voters were sold on a low-cost high-speed rail program," Olivier said. "A lot of people think in this region the train is going to provide jobs for the next two generations," Olivier said. "But the train is collapsing."
"Today, high-speed rail is an over-budget mess exercising extreme eminent domain powers against Fresno's farmers," said Olivier. "Even worse: ticket prices are likely as high as plane tickets and there's no guarantee it will be anything close to high-speed."
"Instead of breaking up farms and closing local businesses, I will fight to reinvest high-speed rail funds into Central Valley highways and infrastructure, along with programs to create long-lasting jobs in the Valley instead of short-term jobs that disappear after high-speed rail fails."
Olivier even referenced the train-to-nowhere in a Tweet: "The people of District 7 want private development fast tracked on BStone. They know a federal super bus does nothing for their neighborhoods."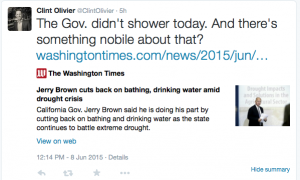 Voting Record
"Land use policy is not a vehicle to get people out of poverty," Olivier said, when discussing his voting record. Olivier said his record of voting against government waste, along with wasteful government programs, is consistent. "Land use policies are being used to kill retail development," Olivier said. "Opponents of retail claim 'retail is not bringing in the kinds of jobs we want.'"
Oliver recently butt heads with Fresno Mayor Ashley Swearengin over the way a new Smart & Final store was being handled. Olivier supported the plan to build it in a new location, as the Smart & Final representatives wanted, but saying the plan creates piles of red tape that will scare off private money. "We can't do it without private investment," he said in a story reported by yourcentralvalley.com. "So when private investment comes knocking, we have to open the door
 to them."
"But I also have an issue when politicians and bureaucrats are central planners," Olivier added.
"The state has set up businesses to fail, and young kids to fail," Olivier said. "Republicans and Democrats should get behind policies to get government out of the way. These kinds of things resonate with people."
"I'm Libertarian leaning – less government," Olivier added. "Particularly government that taxes and wastes hurts working families."