Talking incessantly about climate change as "the most important issue of our time," has allowed politicians to avoid focusing on serious failures and incompetent leadership. With California Gov. Jerry Brown lobbying for and signing the controversial Senate Bill 350 – even with the gas reductions amended out – he has thrown up a huge diversion, while simultaneously helping to sink our economy even further.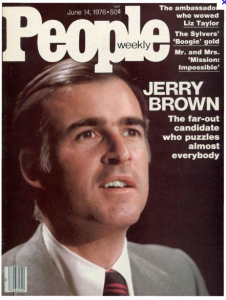 "This law should be called the California Economic Cooling Act, because SB 350 puts California's economic recovery on ice," said Sen. John Moorlach, R-Costa Mesa. "By almost every measure, California is already the most expensive state in which to build a business and raise a family.  SB 350 is projected to double California's electricity costs, which are already among the nation's highest."
"What business wants to come to California, where we're making it economically impossible to survive?" Moorlach asked.  "While California lawmakers are busy trying to save the world, they're simultaneously bringing extinction to California's economic competitiveness."
Jerry Brown inherited the Golden State, the land of opportunity. Now everything he touches turns Brown.
California Governor Jerry Brown's Reign of Ruin
While the U.S. has President Obama touting climate change diversions, in California we have our own failure: Gov. Jerry Brown. Illegal immigrants are taking over California, and now they'll be registered to vote, thanks to a bill Brown just signed. Unemployment is high, we pay the highest taxes in the nation, and the public school system is terrible, ranking third to last in the nation. In the Los Angeles Unified School District – the largest in the state – minority drop out rates exceed 60 percent.
And all Jerry Brown does is proselytize about climate change.
In 2010, Brown won election by promising to be a pragmatic, no-nonsense problem-solver, and not ideological. He has done the exact opposite, with the assistance of California's liberal media.
Brown has never balanced the state budget, despite his claims. The state economy is a disaster, despite his claim, "California is back."
Each of his budgets has carved out the debt he doesn't like – specifically $600 billion in unfunded pension and retiree health care debt.
Brown's 2015 budget carved out transportation spending, despite very high transportation taxes. Brown tried to get the Democratically-dominated Legislature to pass a bill to increase taxes to spend on transportation maintenance, repairs and infrastructure. But he failed at even that.
Governor Green – Brown's Eco-Terrorists
The U.S. Environmental Protection Agency terrorizes the country, imposing impossible regulations on natural gas fracking, its perpetual war on coal, and regulating every body of water in the country, including streams, ponds, and even standing water in privately owned parking lots.
The EPA writes the rules with minimal guidance from Congress. Even worse, the courts commonly defer to "experts" in Obama's executive-branch agencies in interpreting these rules.
In California, Gov. Jerry Brown's Air Resources Board is the environmentalist terrorist. The ARB receives no legislative oversight under Brown. But they implement the state's bottomless climate change agenda, and have gone as far as imposing illegal taxes against California businesses. Under Brown, the ARB implemented a cap and trade scheme, extorting excessive amounts of money from businesses they deem polluters, for the privilege of continuing to do business in the state.
The Democratic Party and Brown's decades of ignoring important water policy and infrastructure have made California's latest drought worse. Brown announced in April that private citizens and small businesses will have their water usage restricted, monitored, and subject to heavy fines if state water police determine that too much water is being used.
California farmers have been denied water for years to save the non-indigenous Delta Smelt fish, and environmentalists have blocked needed increased water storage at every opportunity.
The Emperor Has No Clothes
Most recently, Brown took a big blow when he came away empty handed from his legislative special sessions to pass taxes on transportation and the state's Medicaid welfare financing.
And, Brown's signature climate change legislation failed. SB 350, authored by Sen. President Kevin de Leon, D-Los Angeles, would have mandated the reduction of 50 percent in the use of petroleum-based fuels, 50 percent reduction in energy use by existing buildings and increases the Renewable Portfolio Standard to 50 percent from 33 percent. Ironically, upon assuming the role of Senate President, De Leon purchased his own fleet of brand new, gigantic black SUVs, so he and his entourage can be driven in a style becoming a President…
SB 350 would have ground California's economy to a halt, faster than the previous climate change mandates are. Some legislative Democrats recognized this and amended the bill to remove the 50 percent reduction of gas. But Brown got even and signed the remainder of the bill into law, which will force all buildings in the state to adhere to California's absurd and impossible clean energy policies through outlandishly expensive retrofits, performed by the crony special interests cashing in on climate change mandates that they lobbied for. And increasing the mandate of 33 percent renewables used in electricity production to 50 percent when the state can't even meet the current 33 percent, is going to kill the few remaining industries left in California. But that's okay because Jerry Brown and Kevin de Leon say new industries are being created in this new, "green" economy.
The transportation mess in the state is getting dangerous, with roads and bridges crumbling. But Gov. Brown waited until three weeks before the end of the special session to spring his devious plan on the Legislature.
The 10-year, $37 billion proposal would have raised gas taxes by six cents a gallon, and increased vehicle fees by $65. The claim was the tax revenue would have funded the state's $60 billion backlog of highway and bridge maintenance and repairs, as well as the unpopular high-speed rail and mass transit scheme. Interestingly, Brown needed Republican support and was confident he could garner the votes at the last minute.
Epic Failure.
"…crumbling roads and broken health care promises will define his legacy far more than any train or tunnel," several newspaper editorials reported. Instead of fixing what exists, Brown Jr. is committing untold tens of billions to a high-speed rail system that almost nobody outside a public employee union wants.
The transportation taxes would have ended up feeding the pension debt monster, just as Brown's Proposition 30 has. Prop 30 was supposed to go to schools – remember?
California is Back – Not 
If "California is back," as Brown loves to say, how can 1.5 million Californians be unemployed? And one-fifth of the state's labor force is underemployed.
But even the official unemployment number does not fully reflect the state of the California economy, nor the dire conditions of the state's residents. Rather than creating policies to incentivize businesses, the state's politicians are focused on increasing the minimum wage for low-paying jobs. That's like offering an aspirin to treat the headache caused by a brain tumor.
How to create a healthy business environment once again in California is never in the governor's speeches, nor does he discuss the high poverty rate in California, or California's highest welfare and food stamp dependency in the nation.
Brown openly mocks people who speak of the exodus of businesses leaving California for healthier states, and those who voluntarily move to Texas in search of a better life.
Toyota, the world's largest automaker, announced last Spring it would move its headquarters to Texas, and take 3,000 jobs. Brown just said, "Change is inevitable."
Yet the state of Texas has managed to attract Google, Cisco, Intel, IBM, Facebook, Apple, and Oracle, all of which are expanding operations — anywhere but in California. Apparently the beautiful climate in California doesn't extend to the bottom line, as Brown likes to say.
"The list of state and locally based companies that either fled California or subtracted jobs in recent years includes Occidental Petroleum, Raytheon, Legalzoom, Waste Connections, Daegis, Revionics and Toyota," the Sacramento Bee reported Sunday. "Waste Connections, the multibillion-dollar trash-hauling company that was once headquartered in Folsom, was the largest publicly traded firm in the Sacramento area in August 2011…"
Even electric car company Tesla, which receives significant state and federal subsidies, announced in March it would not be building a $5 billion lithium-ion battery factory in California. The battery factory was expected to employ 6,500 workers. This was particularly embarrassing for Brown since California has been trying to set the world speed record to lead the UN-led global warming and climate change jihad, and in legislating policies to lower the state's carbon emissions.
"Anywhere but California," is becoming the new state motto for many businesses – even for a supposed "green" company.
Suffocating from the failed policies and beliefs of liberals, California is now a Non-Profit State.