California's gun control leftists hold some responsibility for the mounting deaths in Wednesday's vicious terrorist attack in San Bernardino.
California's gun laws are some of the strictest in the country, and Gov. Jerry Brown continues to make them even tighter.
The bottom line is that citizens aren't allowed to protect themselves in the Golden State.
The mass shooting took place Wednesday morning in San Bernardino, California at the Inland Regional Center, a facility for developmentally disabled adults, where 14 people were killed and at least 17 injured. Two of the suspects are both Muslim, a husband-and-wife team named Syed Rezwan Farook, 28, and Tashfeen Malik, 27. Both were killed by police. Some news reports say there are thought to be more suspects involved.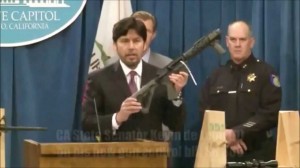 Ridiculous Absurdity
In October, less than two weeks after the Oct. 1 massacre in a gun-free zone at Umpqua Community College, Gov. Brown signed into law Senate Bill 707, by Sen. Lois Wolk, D-Davis, that bars law-abiding, licensed citizens from carrying guns on campuses in California for self-defense. The bill prohibits gun owners, issued a license by their local police chief or sheriff, from carrying handguns for self-defense on California school grounds. It also subjects those with a carry permit, issued only after passing a strict, fingerprint-based background check and agency-approved training course, harsh new criminal liability for merely possessing a single round of ammunition on the grounds of any school or college campus, even if they don't also possess a firearm.
In Ohio, nearly 40 school districts now allow teachers with concealed carry licenses to carry their weapons in class, WKRC Cincinnati reports. In upstate Ohio there is top level, extraordinary teacher training. "The teachers and administrators train side by side with local law enforcement and paramedics at John Benner's Tactical Defense Institute. They're training for a nightmare, when classrooms and hallways become killing fields."
In Utah, teachers across the entire state are allowed to carry at school, John Lott reports.  "Utah definitely does this right as Utah law prevents districts from asking the teachers that have guns."
California Assemblywoman Shannon Grove, R-Bakersfield introduced AB 202 in 2013, "to empower school districts to use general purpose funds for those school employees who request concealed weapon training, so they can lawfully and safely carry a concealed firearm to school, to give schools around the state the opportunity to adopt pre-emptive security measures so their students can feel safe."
The Bakersfield Californian ran a perverse editorial titled, "Train janitors to defend our campuses?"
AB 202 was killed by Democrats before it could ever be heard in a legislative committee.
More Gun Control
In 2014, Gov. Brown signed Assembly Bill 1964, by Assemblyman Roger Dickinson, D-Sacramento, which unnecessarily removes existing exemptions for all single-shot pistols, other than those with a break top or bolt-action, from California's roster of "not unsafe" handguns.  This legislation does not address any legitimate public safety problems and conflicts with well-established constitutional principles. As the NRA rightly pointed out, "Criminals are not purchasing single shot handguns from firearms dealers to commit their crimes.  Rather than target criminal behavior, AB 1964 will only impact law-abiding gun owners."
Last year, the Democratically-controlled California Legislature proposed a bill to require BB guns and Airsoft Pellet guns painted bright toy colors so they won't be mistaken for real guns. (You can't make this stuff up). Coloring BB guns ("BB" stands for "ball bullet,") in bright colors will only give parents and children the impression that they are children's toys, rather than recreational and target sport guns.
And criminals will start painting their AK 47s hot pink.
Then there was the bill to outlaw "Ghost Guns," to force California gun owners to register any and all future or previously home-built firearms regardless of type. In other words, the Golden State will create a whole new class of criminal.
In 2014, SB 140 was passed, by Sen. Mark Leno and Senate President pro Tem Darrell Steinberg, which appropriates $24 million to the California Department of Justice to enhance the identification and confiscation of handguns and assault weapons that are in the hands of convicted felons, persons who are determined to be mentally unstable, and others who have criminal backgrounds that prevent them from legally possessing guns.
Many are rightly concerned that the recent beneficiaries of $24m in state funding under the DOJ's Armed & Prohibited Persons System will experience mission creep.
SB 53, the "Keeping Ammunition Out of the Wrong Hands" bill, by the now Senate President Kevin de Leon, proposed to require ammunition purchasers to obtain an annual permit, issued by the Department of Justice. The bill would have required ammunition purchases be face-to-face transactions, only through a licensed ammunition vendor. This bill would ban mail order and Internet sales of ammunition. Fortunately, this inane bill was not passed.
Here is the largest list of gun control laws Gov. Brown vetoed and signed, from his official website October 2013:
Signed gun control bills
SB 683 by Senator Marty Block (D-San Diego) – Firearms: firearm safety certificate.
SB 363 by Senator Roderick D. Wright (D-Los Angeles) – Firearms: criminal storage: unsafe handguns: fees.
SB 127 by Senator Ted Gaines (R-Rocklin) – Firearms: mentally disordered persons.
AB 1131 by Assemblymember Nancy Skinner (D-Berkeley) – Firearms.
AB 48 by Assemblymember Nancy Skinner (D-Berkeley) – Firearms: large-capacity magazines.
AB 170 by Assemblymember Steven Bradford (D-Gardena) – Assault weapons and .50 BMG rifles.
AB 231 by Assemblymember Philip Y. Ting (D-San Francisco) – Firearms: criminal storage.
AB 500 by Assemblymember Tom Ammiano (D-San Francisco) – Firearms.
AB 538 by Assemblymember Richard Pan (D-Sacramento) – Firearms.
AB 539 by Assemblymember Richard Pan (D-Sacramento) – Firearm possession: prohibitions: transfer to licensed dealer.
AB 711 by Assemblymember Anthony Rendon (D-Lakewood) – Hunting: nonlead ammunition. A signing message can be found here.
The Californian's Feb. 2 editorial, "Train janitors to defend our campuses?":
Vetoed gun control bills:
AB 169 by Assemblymember Roger Dickinson (D-Sacramento) – Unsafe handguns. A veto message can be found here.
AB 180 by Assemblymember Rob Bonta (D-Alameda) – Registration and licensing of firearms: City of Oakland. A veto message can be found here.
SB 299 by Senator Mark DeSaulnier (D-Concord) – Firearms: lost or stolen: reports. A veto message can be found here
SB 374 by Senator Darrell Steinberg (D-Sacramento) – Firearms: assault weapons. A veto message can be found here.
SB 475 by Senator Mark Leno (D-San Francisco) – Agricultural District 1-A: firearm sales at the Cow Palace. A veto message can be found here.
SB 567 by Senator Hannah-Beth Jackson (D-Santa Barbara) – Firearms: shotguns. A veto message can be found here.
SB 755 by Senator Lois Wolk (D-Davis) – Firearms: prohibited persons. A veto message can be found here