Hoping to bring back citizen representation, Tony "The Tiger" Lopez is running for Mayor of Sacramento. Lopez, a 3-Time World Boxing Champion, is a native of Sacramento, CA. Always a fan favorite in Sacramento, Lopez won the IBF junior lightweight title twice and the WBA lightweight title once.
"During his 16-year career, Lopez faced the gauntlet at 130-135 pounds, squaring off with the likes of Julio Cesar Chavez Sr., Joey Gamache, John John Molina, Jorge Paez, Brian Mitchell, Greg Haugen and Freddie Pendleton," Ring TV wrote.
Since his retirement from the ring, Lopez has been serving the Northern California community for more than 16 years at Tony "The Tiger" Bail Bonds. I sat down with Tony recently at his downtown Sacramento office and talked about his desire to be Mayor, his fighting career, the importance of his bail bonds business, and his philosophy of life and politics.
The History of the World
Lopez is instantly a warm and engaging man. He's funny, irreverent, direct and as serious as a heart attack about running for Sacramento Mayor. Tony Lopez is tired of 'business as usual' in Sacramento – his Sacramento – and he's fed up with politicians who won't retire and leave office.
"Sometimes people do things for reasons other than the rights one," Lopez said when I asked him why he is running. "It's going to be a common sense office."
A native of Sacramento, Lopez is one of four children. "I had a great childhood," Lopez said. "I have a great dad who knew everyone and everything, and my mother was also smart. She knew everything that was going on. Our family always came first."
As for the job of Mayor, "I don't need that political BS. I was always a hard worker," he said. "West Sacramento in Yolo County is doing much better than us," he said. "They have a better ball park. Their riverfront is nicer. They've built nice neighborhoods on the riverfront." Lopez asked why Sacramento, the state Capitol of California, located on two rivers, still has undeveloped miles and miles of riverfront. "We need a boardwalk," he added.
That's just one issue that none of Sacramento's mayors has ever adequately addressed.
When I asked Lopez what made him decide to run, he said it was when Darrell Steinberg announced he was running for Sacramento Mayor. Steinberg is a career politician who recently was termed out as the Senate President in the California Legislature. He served in the state Assembly 1998-2004, and the Senate 2006-2014. Prior to running for the Legislature, Steinberg was on the Sacramento City Council for six years – and now he wants to come back. "He has done more to harm Sacramento and its residents during his tenure as Senate Pro Tem than perhaps any legislator in history," a political colleague said to me. "He's in the pockets of the unions, actively hostile towards democratic rights and open government, and a doctrinaire hard-core left-winger.  He would be an utter catastrophe for Sacramento."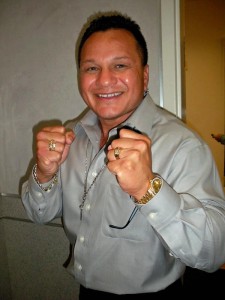 The other Mayoral candidate, City Councilwoman Angelique Ashby, is also a labor union mouthpiece, but less well known than Steinberg.
Steinberg appears to be out of options. Gov. Jerry Brown recently passed Steinberg over for a state Supreme Court appointment, according to the Los Angeles Times. So Steinberg decided to return to politics in the city. Politics "is in my blood. I like people. I get energy out of the interaction," he said at his announcement rally.
Contrast Steinberg with Lopez: "I don't want or need anybody in my back pocket," Lopez said about running for office. He's tired of politicians who owe favors, and are all-too-happy to deliver. "People are tired of politicians."
He's on to something, if this Presidential primary is any indication. "People do things and people owe things," he said. "If I am given $1.4 million to run, I owe $1.4 million favors."
Lopez has ideas and solutions to gangs, drugs, homelessness, and even the border problems.
"Because of my life, the fighting, and my bail bonds business, people talk to me. I know how to go to the streets and the people who know how to deal with homelessness, drugs, gangs," Lopez said. He gave examples of ways to begin dealing more effectively with the expanding homeless population in Sacramento, including making them responsible for maintaining their own housing. Lopez also wants to use the homeless to help keep Sacramento clean in exchange for services they need.
"We also need to ease up on the businesses and consumers," Lopez said referencing Sacramento's high taxes and anti-business policies. "And we don't take advantage of our weather," Lopez said. "I would hold 'Tamale Talk with Tony' every Tuesday, and invite anyone who wants to talk about their issues. And we'd eat great homemade tamales."
Lopez wants to hold the agencies within the City of Sacramento accountable – something that is currently lacking. We discussed the skyrocketing utility rates in Sacramento's Department of the Utilities. "They're going to hate me as a mayor," he said. "If they want to continue to be unrealistic with rate increases, we're going to take it to the people."
We know how that will end if the voters have a say.
Lopez is frustrated with the hands-off approach to safety and security in the city. As for school safety, he wants to bring the Chief of Police to Sacramento's schools to talk directly with the students about safety issues. And he has his own empowerment thoughts: "Children shouldn't have to live with fear," he said. They need to be empowered to defend themselves. "They hit you once, hit them five times. Go forward; never go backward."
I agree.
Lopez knows the union stranglehold on Sacramento is epidemic. He's even experienced it first hand. He tried to put on a Mixed Martial Arts (MMA) event a couple of years ago at the downtown Memorial Auditorium. He contacted the city and the cost to use the auditorium was astronomical because of the outrageous of the union wages. He said the city's attitude was worse.  "Nobody uses it – it sits empty," Lopez said. So he contacted Stockton's City Manager and was met with open arms, an affordable price to use the downtown auditorium, and was allowed to bring in his own security and food vendors. His MMA event was a huge hit, and everyone made money.
"We need to kick-start this town," Lopez said. "We need to build out the riverfront, and only use Sacramento contractors and labor. We need to use our own people and get them out of the soup lines."
Because our prices are so high here, people can't put on anything," Lopez added. "Why isn't the largest area car show downtown?" he asked. The low-rider show is a smash hit annually, but is held way out at Cosumnes River College in the south county. "They come from everywhere," Lopez said. "They buy food, hotels, and spend money."
"But I know why," he said. "The city wants too much money; they don't know how to make money."