California state budgets no longer require a two-thirds vote of the Legislature to be passed, but there are still budget games, deals and hinky promises that happen in the process.. However, tax increases do still require  two-thirds vote.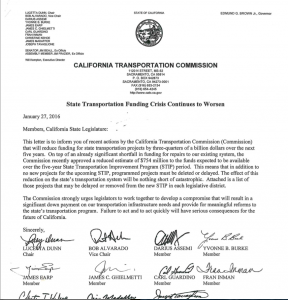 This year, Gov. Jerry Brown had proposed tax increases – a gas tax hike, a road tax for miles driven, a car registration hike, and a health plan tax… to name a few.
In order to get these tax increases approved, Brown and his administration use arm-twisting and extortive tactics on lawmakers who show resistance.
In January, the California Transportation Commission sent a letter to all members of the California State Legislature, warning that because of a reduction decided by the Commission of $750 billion in state transportation projects over the next five years, many of the ongoing or new projects on the list will be delayed or deleted.
Attached to the commission's letter was nearly five pages of important road and highway projects on the "cut" list, listed by Assembly and Senate district. "The Commission strongly urges legislators to work together to develop a compromise that will result in a significant down payment on our transportation infrastructure needs and provide meaningful reforms to the state's transportation program," the letter said.
Senator Andy Vidak, R-Hanford, received the letter, and felt the arm-twisting. Vidak responded and sent a letter to the California Transportation Commission, calling out Gov. Brown and the commission for holding up potential road projects in his district to try to force his vote in favor of Brown's tax hikes.
For those who call Jerry Brown moderate, charming, funny and reasonable, this is the real Jerry Brown. And he wants more tax increases on top of the largest budget in California history.
"It's clear to me that the governor and transportation commission are holding important road projects hostage to try and force a gas and car tax hike," said Vidak.  I think it's only fair that they provide a list of projects that WILL be funded if they don't get the votes for the tax hikes, and if the governor's pet High-Speed Rail project is on the WILL-fund list, that's unacceptable.  The governor should put road improvements ahead of the gross-polluting High-Speed Rail boondoggle."
In his letter to the Transportation Commission, Vidak noted with dismay that the commission never even mentioned the more than $1 Billion the Governor is proposing to spend this year on his pet "High Speed Rail" project. High Speed Rail funding apparently "is a separate pot of money," as if pots of state money aren't co-mingled when it suits state leaders.
Unsafe Roads and Highways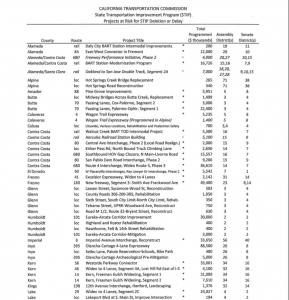 Many of the road and highway projects on the Commission's "delay or delete list" have become public safety issues including Highway 99 and Interstate 5, the treacherous road between Monterey and Castroville, and even the notorious San Luis Obispo County Highway 46, known as "Blood Alley" where James Dean was killed, has had some widening, but there are several crucial, still dangerous Hwy. 46 areas and intersections on the "delay or delete list."
The "delay or delete list," which features many projects in rural and agricultural counties, contains many important corridors of commerce, freight, travel, tourism and daily commutes to school and work, which require widening, interchange improvements, bridge replacements, and road reconstructions.  An examination of the list begs the question of Commission priorities.
Sacramento had a recent transportation project, although the necessity was in question. The $40 million, two-year long Watt Avenue interchange project at Highway 50, smack in the middle of former Democratic Sen. Darrell Steinberg's and former Democratic Assemblyman Roger Dickinson's districts, appeared to most an unnecessary project on a list of safety priorities. The project appeared to be a local pork project, which eventually provided a new bus-only lane, and bicycle and pedestrian lanes – homages to AB 32.
Attempted Legislative Fix Killed
In June, during an extraordinary session of the Legislature on transportation and infrastructure issues, Sen. Vidak introduced bipartisan legislation to allow Californians to vote again on the controversial High-Speed Rail project. The bill, by Vidak and co-author Assemblyman Rudy Salas, D-Bakersfield, would have allowed voters to decide on whether they want to continue funding the HSR project, which is estimated to cost $100 billion to complete, and would immediately freeze any further spending on the project until after a vote on June 7, 2016.  If approved by voters, any unspent HSR dollars would be redirected to repair and/or construct new state highways and local streets and roads.
"The High-Speed Rail of today is not what the voters approved in 2008," Vidak said. "Californians deserve the right to re-vote on this massive transportation project that could end up costing hundreds of billions of dollars if it is ever completed.  The money would be better spent on local roads and highways."
Even the former chairman of State Senate Transportation Committee, Democrat Congressman Mark DeSaulnier, said the massive transportation project could really cost taxpayers as much as $350 billion to complete.
But, despite clear violations of the original Proposition 1A, the voters won't be able to weigh in on Gov. Brown's vanity train project's legacy spending — the bill was killed on a party line vote by Democrats in the Transportation Committee.
Vidak says the High-Speed Rail Authority has failed to obtain private investment as promised to the voters, and is now relying California's controversial cap-and-trade program to help fund the project.
Adding insult to injury, in addition to the money for HSR in the state budget, there is a questionable $400 million "slush fund" of cap-and-trade money that is set aside for the HSR Authority to use whenever it is needed.
Quentin Kopp, a past High-Speed Rail Authority chairman, now opposes the project and has said that the HSR Authority is committing "the great train robbery . . . if they can get away with it."
When voters approved the Prop. 1A bonds in 2008, they were promised a train trip from Los Angeles to San Francisco in 2 hours and 40 minutes. This promise has gotten longer and longer, now estimated to take well more than three hours. I can get to Los Angeles on Southwest Airlines in 1 hour, 15 minutes.
I contacted Deputy Director Laurel Janssen at the Transportation Commission, and asked if the commission has a list of approved transportation projects yet. Janssen said they do not have an approved list yet, as they are awaiting responses from regional agencies and Caltrans, which have until the end of the month to send in their projects for consideration or deletion. Then there will be hearings in March on this.
"If the Governor truly wants to reach consensus and compromise on transportation funding, he would offer up his legacy train for sacrifice," Vidak said. "Almost every Republican legislator and many, many Democrat legislators would be on-board with this approach."