I hold it, that a little rebellion, now and then, is a good thing, and as necessary in the political world as storms in the physical.
 – Thomas Jefferson
Hundreds of thousands of Northern Californians are seeking a return to a representative government that serves the citizens and not itself.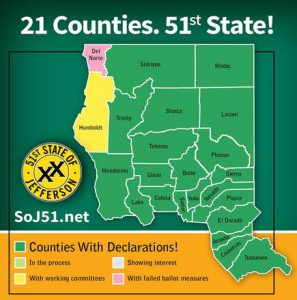 California's northern most counties are suffering from a lack of representation in the state Legislature. Northern California holds only 3 out of 80 seats in the California Assembly, 3 out of 40 seats in the California Senate, and 2 out of 53 seats in the U.S. House of Representatives. The consequence is devastating and irrefutable: Elected representatives located in the Los Angeles Basin and San Francisco Bay Area make all of the decisions for rural California.
·     Twenty Northern California counties have 6 total state level representatives,
·     The southern 38 counties have 114 state representatives,
·     The San Francisco Bay Area has 22 state representatives.
·     There are 11 counties in the north state with one state senator,
·     Los Angeles County alone has 11 senators.
Attempting to create a sovereign state out of Northern California, the State of Jefferson plans to remedy this lack of representation by seeking reforms, such as one senator per county, and by creating a new state—the 51st state.
State of Jefferson is a proposed U.S. state that would span the contiguous and mostly rural area of Northern California. Supporters of the State of Jefferson movement are interested in forming an independent state whose fundamental framework revolves around maintaining the integrity of individual liberties, and Life, liberty, and the pursuit of happiness.
Should Jefferson becomes a state, it would hold a population of more than 1.7 million people and consist of 21 counties, according to the State of Jefferson committee.
State of Jefferson wants:
To return to the Federal Model of government that provided for 1 State Senator per county and the Assembly based on the population for the least populated county IE Sierra County whose population is 3,500.  
·      To elect its own 2 U.S. Senators and Congressional representatives;
·      To elect its own Governor, State Senate and Assembly, based on Article IV, Section 4 of the Constitution;
·      Make Jefferson a business friendly state with common sense tax laws and no state corporate income taxes;
·      Property Taxes to stay in State of Jefferson and more specifically, in its counties;
·      Laws to hold elected representatives accountable to its people;
·      Reduce the 570 state agencies and bureaucracies currently in California;
·      Constitutionally based laws;
·      Utilization of its natural resources – timber, water, farming, mining, hunting and fishing; and
·      A revamping of Social Services.
Mark Baird, the spokesman for the State of Jefferson committee, says the committee and supporters are focused on one single issue: Jefferson Statehood Sovereignty. "We want all counties who feel unrepresented to have a chance to join the State of Jefferson," Baird said. "What we want is a state senator for each county, because once we changed to apportionment schemes for both houses, our debt skyrocketed, and we lost representation." SOJ wants to return to the Federal Model of government, which existed in 30 states prior to 1964.
Baird hopes to be able to get one senator for each county, but doesn't hold out false hope this will happen via the California Legislature. So far, the California Legislature has largely ignored the State of Jefferson movement, despite support from 21 counties voting to join SOJ. Only nine county Boards of Supervisors voted for separation; the rest of the counties gathered the needed signatures of the citizens to submit their Declarations.  Shasta County alone obtained more than 33,000 signatures.
"This is the day they can't ignore us," Baird said, upon delivery of 15 more counties last January. And if the Legislature continues to ignore State of Jefferson, "they make the case for us by ignoring us," Baird said. "We will force them to expand representation, or we will split from the state. Nothing less will do," Baird added.
This Isn't CalExit
State of Jefferson is an Article 4 Section 3 Constitutional State split. SOJ is vastly different than the CalExit effort, explained Sally Rapoza in a Redding Searchlight article. "First, and most importantly we do not want to leave the Union. We want to add a star to our flag, not take one away. We love our country and want to return to Constitutional principles."
There are major differences between State of Jefferson and CalExit:
1. SOJ is a grass roots effort – there is no large financier behind this movement.
2. The Jefferson proposal has historical roots. It was supposed to go through before World War I and boundaries were developed.
3. There are already 21 counties, which officially voted for and signed on to the movement.
"Those of us that live in the 21 Northern California counties also feel ignored, unrepresented and taken for granted," Rapoza said. Evidence of how underrepresented the Northern California region is stood out in the recent election results:
·      Sixteen of the 21 counties in the North State voted against criminal release Prop. 57, which passed statewide with 63 percent of the vote.
·      Twenty of the 21 counties in Jefferson voted against Prop. 63, the gun-control measure. It passed statewide with 63 percent of the vote.
·      Thirteen of the 21 counties voted against legalizing marijuana, Prop. 64, which passed statewide with 56 percent of the vote.
·      Nineteen of the 21 Jefferson counties voted for Trump, but all 55 Electoral votes went to Clinton. In fact, 26 of the 58 counties in California were not represented in this election.
"Those of us who live here in the North State have many differences with our brothers in the south," Rapoza said. "We want to have control over our borders. We want to have Voter ID. We want to keep our Second Amendment rights. We want to be able to wisely utilize our natural resources. We want to educate our children on a more local level. We want our Constitutional state sovereignty back."
"The CalExit group is throwing a tantrum over the election of Donald Trump," Rapoza said. State of Jefferson is a legal, Constitutional and patriotic movement.
More information can be found at SOJ51.net