For many years I have written about the horrendous challenges California business owners face because of legislatively-imposed environmental regulations, business-killing regulations and labor laws, hostile politicians and city councils, and government-sanctioned labor union attacks on non-union businesses. Few politicians have ever run a business or owned a business, and even fewer appreciate what it takes to grow a business.
Whether it is Gerawan Farming fighting the corrupted California Agriculture Labor Relations Board and United Farm Workers labor union thugs attempting to take over, or Maglite flashlight inventor and company owner Anthony Maglica, who has been in a battle with the State of California over the "Made in the USA" label on his flashlight packaging (exclusively made in California), these and other businesses and employers are under constant siege by the state and local politicians over business killing regulations, laws, militant environmentalists, and anti-business fanatics.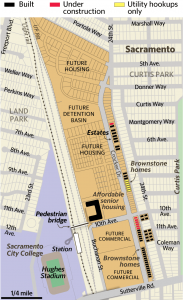 In the state Capitol, in my home town of Sacramento, long-time developer Paul Petrovich has been working since 2003 – more than 15 years – and invested upwards of $100 million in his lovely Crocker Village development project  in an infill development (previously called Curtis Park Village). The commercial building plans include a Safeway store and fueling station. He has been building the 72-acre infill project on the unsightly abandoned Union Pacific rail yard located behind Sacramento City College, between the beautiful, old established neighborhoods of Land Park and Curtis Park. The property links to Sacramento City College and a light-rail station by a fabulous pedestrian bridge he built that arches over the train  tracks. Petrovich originally invested $50 million to clean up the toxic defunct rail yard.
Despite modifying plans, making concessions, and compromising with planners and local residents, Petrovich has been met with vitriol, collusion and devious city shenanigans, along with an unsurprising case of NIMBYs — the "not in my backyard" type of people who reliably object to any change in the neighborhoods where they live. But the vociferous Curtis Park opposition say they oppose Petrovich's plan because it will harm the environment and compromise their historic neighborhood.
Had Paul Petrovich instead built tiny houses for the homeless, or apartment housing for students and Section 8 recipients on this formerly toxic rail yard, he may have gotten more support from local politicians and the city. But the NIMBYs in Curtis Park would have shrieked at the tiny houses occupied by homeless persons, and they would have boiled over with indignation at nearby Section 8 housing – and he still would have been crucified over the grocery store and gas station, which they claim presents cancer risks. I wonder how many Curtis Park residents drive electric cars which can be explosive when in a serious enough accident, due to the explosive nature of lithium-ion when those EV batteries are impacted. But I digress.
Petrovich's original project description included all of the required elements that city urban planners require and concerned citizens say they want: A mixed-use project, urbanized community structure, in-fill development (utilizing land within the city limits); a public transit oriented development with two light rail stations, while being pedestrian-friendly offering a pedestrian foot bridge to connect the neighborhoods and City College; neighborhood retail (no big-box stores); office space; a health club; a 7-acre park; tree-lined streets; and 240 affordable, subsidized, multi-family housing units, 184 single family homes, and 90 senior housing units, all utilizing a design that integrates with architecture in the surrounding neighborhoods.
What's the beef? Petrovich Development Company planned to build a Safeway supermarket and gas station as part of the commercial complex within the development project.
You'd have thought Petrovich planned on building a Payday Loan Outlet, a Waffle House restaurant, a Winnebago dealership and Dollar General bargain store, the way the nearby neighborhood NIMBYs have been behaving. Or that Petrovich was drilling for oil.
The project turned personal. Area residents have made the Crocker Village project about Paul Petrovich the man, instead of focusing on the project, which has already turned some of the blighted land into beautiful three-story brownstone-style town homes. Some of the Curtis Park neighbors believe the Safeway, as an anchor store, would provide a much-needed upscale one-stop shopping center, which would also allow neighbors to ride their bikes to and from – something Curtis park residents claim to believe in, but usually for other people.
I've been covering the Petrovich development project for many years. I wrote this in January 2010:
"With most of the 32 design changes that Petrovich made to the plan at the behest of five vocal members of the Sierra Curtis Neighborhood Association, it appears that they are now requesting changes to their original requests for changes. This can only lead one to believe that they are nothing more than attention-starved obstructionists who should take up a hobby instead. The space efficient street grid Petrovich originally designed was replaced with meandering streets and a traffic-calming roundabout; now the opponents of the development want a street grid again. The cries about increased traffic are based on three-generation-old plans that included a hotel; even the Draft Environmental Impact Report showed a minimal traffic increase at major intersections and no traffic increase on most Curtis Park streets."
The handful of vocal opponents are or have been on the Sierra Curtis Neighborhood Association board of directors. Some of the project opponents write for the neighborhood newspaper, "The Viewpoint." Several of the opponents are attorneys.
Petrovich was forced to file a lawsuit against the against the city of Sacramento "contending the city did not have the legal right to deny him a permit to build the gas station and that council members colluded to deny the permit." Petrovich's project still includes plans for a Safeway store with a proposed Safeway-owned gas station, which had previously won city planning commission approval.
"The Sacramento City Planning Commission granted Petrovich a conditional use permit for the gas station, to go along with a Safeway supermarket the developer hoped to land," the Sacramento Bee reported. "The Sierra Curtis Neighborhood Association, which opposed the gas station, appealed to the City Council."
In 2015, the Sacramento City Council denied Petrovich the necessary permit for a 16-pump station, based on the opposition from the Sierra Curtis Neighborhood Association. But there is a wrinkle; current City Councilman Jay Schenirer is not only a member of the neighborhood association, he is a former SCNA board member. Petrovich's lawsuit claims Schenirer is biased against him and colluded with other city council members to illegally deny him a fair hearing.
"Schenirer so significantly tainted the rest of the council in this case … that there would be no fair hearing," said Jason Smith, one of Petrovich's attorneys, the Bee reported. "The council collectively made up their minds well before the hearing." The judge ruled in Petrovich's favor "that the Sacramento City Council's vote denying construction of a controversial gas station was unlawful and that one councilmember was even 'coaching' opponents of the gas station through the political process," CBSlocal.com reported in December.  Judge Michael Kenny "ruled Petrovich proved Councilmember Jay Schenirer was biased when he voted with others to deny the permit and worked behind the scenes to coach the president of the surrounding Sierra Curtis Park Neighborhood Association how to successfully oppose the project."
"This is about the second largest infill project in the city being derailed for two years," Petrovich said. And during those two years, the Sacramento Bee printed snide headlines about Petrovich's development sales "lagging" and how his sales were "slow."
Playing Politics With Businesses
I noted in my 2010 article:
Support for Pertovich's development seems to cut across socio-economic, political, philosophical and environmental lines and has received support from some unlikely sources: The Smart Growth Leadership Council, Friends of Light Rail, Assemblyman Dave Jones, state Sen. Darrell Steinberg, Mayor Kevin Johnson, and even the once contentious Land Park Community Association.
Darrell Steinberg is now Sacramento's Mayor, yet he served on the Sacramento City Council from 1992 to 1998, represented this same Sacramento area as Assemblyman 1999 to 2004, and state Senator 2006 to 2014.
Once completed, Crocker Village will have approximately 330 homes, a senior apartment complex, already completed. There are currently 45 brownstone-style row houses already constructed, with a new application filed to build 83 more homes on the site, described as single-unit dwellings, with four different house styles: English cottage, French cottage, Spanish mission, and English country, in the 1,600- to 2,000-square-foot range.
But the city council is not alone in their bias and opposition to Petrovich's development; they've been greatly assisted by The Sacramento Bee, which writes nasty, misleading headlines, designed to taint the development.
One of the Petrovich Crocker Village opponents is Rosanna Herber, "a Sacramento-based political activist," according to the Sacramento Bee. In a recent article titled "How to combat 'Trump trauma': What we've learned since the last Women's March," Rosanna Herber is quoted as saying, "I'm worried about the future of our country when we don't have people willing to stand up to power and tell them that what they're doing is wrong." Herber was the SCNA President in 2010 and wrote a rebuttal to my January 2010 article. Nearly all of her claims about what Petrovich would or wouldn't do have proven to be false.
As I pointed out in 2010, "Ironically, when the need for multi-family low-cost housing came up, the opponents of the project insisted that the low-cost housing be removed from the original prominent locations nearest Curtis Park, and placed instead, in the rear of the development by the railroad tracks, demonstrating that their involvement is not for the greater good, but instead the Not-In-My-Backyard attitude – living in low cost housing and riding the bus is good for other people."
Next: Petrovich wins lawsuit against city, but city will appeal using its endless supply of taxpayer funded lawyers.