"He really was there to listen."
California state, local and law enforcement officials met at the White House on Wednesday to assure voters and the media that the supermajority in Sacramento doesn't speak for them on California's Sanctuary State law or illegal immigration.
The Democrat-supermajority in the state Legislature and Democrat Gov. Jerry Brown passed and signed a law turning California into a "sanctuary state," which prohibits local sheriffs, law enforcement and state officials from allowing federal immigration authorities access to illegal aliens in prison and jails. Senate Bill 54, signed into law by Gov. Jerry Brown last year also prohibits police from asking people about immigration status, or working with federal agents on immigration enforcement. County jail officials are also prohibited from working with immigration agents as they had in the past, but are allowed to transfer inmates to immigration authorities only if they have been convicted of a felony.
California Assemblywoman Melissa Melendez, R-Lake Elsinore, and more than a dozen elected California officials attended a meeting in Washington D.C. at the White House at the invitation of President Donald Trump to share their concerns over California's "sanctuary state" law, Senate Bill 54. The elected officials met with the President for nearly 90 minutes.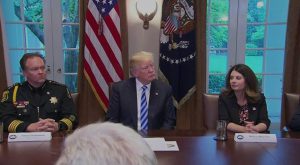 "It was encouraging to sit in a room with so many dedicated California public servants, united in an effort to dismantle a law that provides sanctuary for violent and dangerous illegal aliens just like the man who killed Kate Steinle," Melendez said in an interview Thursday. "He listened to everyone. He really was there to listen. It was very nice."
Melendez said the group of California elected officials, which ranged from local city council members, county supervisors, a Sheriff and a District Attorney, were there so the President could hear directly from local officials about the dangerous and volatile impacts of allowing illegal aliens into to their communities.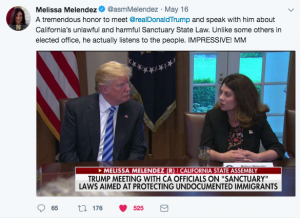 Melendez and the lawmakers thanked President Donald Trump for his efforts to stop illegal immigration.  Melendez said Trump is an "inspiration to a lot of people" and told him that many Californians are supportive of his plan to put an end to illegal immigration and open borders.
"It is a crisis," Melendez said. Her constituents "don't want to see another Kate Steinle."
Steinle was murdered by an illegal alien felon while walking on a pier with her father in San Francisco. Five time deported Jose Ines Garcia Zarate, an illegal alien, was acquitted of murder, involuntary manslaughter, and assault with a deadly weapon charges by a San Francisco jury. Jurors only convicted Garcia Zarat of being in possession of a firearm.
Melendez said she and the Republican minority colleagues in the California Legislature are the answer to the Democrats' "resistance" movement. "This is your Republican resistance," she said.
Assemblywoman Melendez said the President was a gentleman and pulled her chair out for her before sitting. As Melendez wrote in her Facebook post:
"His seat, coincidentally, was to my right
?. No pressure for me right?! I remained standing as is protocol, waiting for the President to take his seat. We shook hands and spoke for a minute. Then, he looked at me, I looked at him, and we both waited. Finally he pulled out my chair and said "Please, sit, I can't get used to this," referring to everyone waiting for him to sit first. I was floored."
And then he gestured to the media in the cabinet room and said, "I see all the fake news is here."
Melendez said the image the [main stream] media portrays of President Trump "is a caricature of the man we met and got to know."
Also at the meeting were California Rep. Kevin McCarthy, U.S. Attorney General Jeff Sessions, representatives of Immigration and Customs Enforcement, and Steven Miller, policy director to the President.
Melendez was the only California state legislator in the contingent.
At the meeting, Fresno County, Calif., Sheriff Margaret Mims was speaking about California "sanctuary city" laws, and said, "There could be an MS-13 gang member I know about, if they don't reach a certain threshold, I cannot tell ICE about them."
"You wouldn't believe how bad these people are. These aren't people, these are animals, and we're taking them out of the country at a level and at a rate that's never happened before," Trump responded.
The Associated Press reported the President referred to those illegally crossing the US border as "animals" and slammed California sanctuary state laws as "deadly." And then they removed their disingenuous Tweet.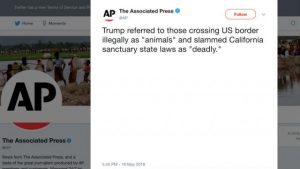 White House press secretary Sarah Huckabee Sanders told reporters on Thursday that the context of the comment was clear.
The Hill reported:
"If the media and liberals want to defend MS-13 they're more than welcome to," Sanders said in the White House press briefing. "Frankly, I don't think the term the president used is strong enough."
Many major news organizations, including The New York Times, CBS News, NBC News, ABC News and CNN, among others, referred to the president's comments without mentioning MS-13 in Twitter headlines to their millions of followers.
After the White House meeting, Melendez  to her 72,000 Twitter followers:
A tremendous honor to meet @realDonaldTrump and speak with him about California's unlawful and harmful Sanctuary State Law. Unlike some others in elected office, he actually listens to the people. IMPRESSIVE! MM