I received a jury summons in the mail last week. Whenever this happens, I stare at it for a few days or weeks, and then try to dream up an exotic excuse why I cannot possibly serve. I'm not trying to get out of my civic duty; I paid my civic debt years ago on a death penalty jury – and I was a casualty of jury tampering.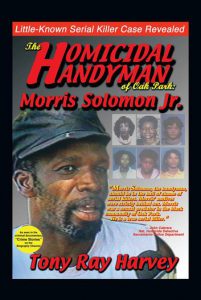 In 1991, I was assigned as a juror to the death penalty trial of serial killer Morris Solomon Jr. Known as the Sacramento "Handyman Killer" in the late 1980s, Solomon killed half a dozen prostitutes and young women in the Oak Park neighborhood between 1986 and 1987. Realizing I would be stuck for many months on this jury, I decided to take copious notes during the trial each day. Within six weeks, I had already filled 4 notepads, front and back. I didn't realize my note taking bothered someone in the courtroom. 
Morris Solomon was one of the Sacramento area's most notorious serial killers, and was eventually found guilty and sentenced to death in September 1992. Now 74 years old, Morris Solomon Jr.is sitting on death row in San Quentin, California.
However, this isn't another true crime story about gruesome murders; my story is much different. This is a story of jury tampering.
In my note taking as a juror, I included every detail I could, just to stay awake and entertain myself. The days dragged on and on, as evidence was presented. I noted what the bookish Public Defender wore. "He's wearing the gray suit…again." I noted when the judge nodded off, "daily." The Assistant District Attorney, John O'Mara was a big guy, and frequently rumpled. When someone picked their nose, or adjusted her bra, it made it into my journals. I even made notes of my fellow jurors, not one of whom took a single note.
In 1986, Morris Solomon reported to police that he had found the body of a woman in a closet of a home he was renovating. A few months later, a second body was found by repairmen in a nearby vacant home. In March 1987, another two dead women were found behind nearby homes.
Police arrested Morris Solomon in April 1987 following the discovery of yet two more bodies buried near the porch of a home in the 4300 block of Broadway. Police used heat-sensing helicopters to locate the final victim.
Anyone who has been a juror in a criminal trial knows that the presentation of evidence is tedious, and can drag on for what seems like forever if you are only a spectator. In the Morris Solomon trial, photos of the dead women were passed around, while ADA John O'Mara questioned witnesses, who claimed to know the defendant, and some of the victims.
Jury Tampering is the crime of attempting to influence a jury through other means than the evidence presented in court, such as conversations about the case outside the court, offering bribes, making threats or asking acquaintances to interfere with a juror.
This is where I come in. After morning testimony from two female witnesses who claimed to know Morris Solomon from the Oak Park neighborhood, and indicated they knew he was a sketchy dude, the jury was given a break. I walked down the hall to the ladies restroom. A few moments later, while I was tucked inside of a stall, I heard the restroom door open and the sound of two voices. I recognized the voices of the two women who had testified earlier. They talked a little too loudly, and bragged that they had lied on the stand.
So, I'm sitting inside the bathroom stall in the Sacramento County Courthouse, and realize that these two women are deliberately putting on a show. For me. So I sit quietly and motionlessly, praying they will just leave the restroom, and leave me the hell alone.
Finally, without using the toilet, they leave the restroom, and I'm all alone. My heart pounds, my mind races and I'm frantic, wondering what had just happened.
Before the trial resumed, I found the Bailiff and told him what happened. He had me wait outside of the courtroom while he told the judge. Then, they had me come back into the courtroom and sit in the jury box alone, while the Judge, the ADA, and the Defense team grilled me as if I was on trial. They wanted to know if I could proceed as a juror,  ignore what I heard, and not let it influence me. I told them what happened, and made it clear that I realized I'd been followed into the restroom by the two witnesses. And, I knew it was also clear that the witnesses had been coached on what to do and what to say, putting me in an extremely precarious situation. If I didn't tell the court what happened, the entire trial could have been compromised.
I did tell the court what happened, and after nearly an hour, the Judge excused me from the jury. The trial was only six weeks along.
The Rest of the Trial
I followed the case closely. Even at six weeks, it was evident the prosecution's case was largely circumstantial.
One day shortly after I was excused from the jury, I received a call from the defense attorney, Peter Vlautin. He wanted to know if I'd speak to him about my impression of the case so far. I was curious, so I checked with the judge, who said it was allowed. I met with Attorney Vlautin, and was surprised to discover that the defendant Morris Solomon thought I was working or doodling on my note pads. It never occurred to him that I was taking notes, although the attorney figured I was taking notes. I told him that I thought the case was thus far largely circumstantial.
And it turned out that I was right, because there was no evidence directly connecting Solomon with the crimes. However, each victim except one was found at houses where Solomon had either lived or had worked as a handyman. And witness testimony from local residents connected him as an acquaintance of some of the victims. "The victims – drug addicts, prostitutes, and devout mothers were stuffed in closets, hidden under debris, and arguably, one court judge strongly considers, buried alive," Tony Ray Harvey wrote in his book on Solomon, The Homicidal Handyman of Oak Park: Morris Solomon Jr. 
There was very little DNA testing at the time as it was in its infancy. However, a semen sample had been collected from one of the victim's and it was a match to Solomon's blood.
A jury convicted Morris Solomon, Jr. of four counts of first degree murder and two counts of second degree murder, and found true a multiple-murder special-circumstance allegation. It also found him guilty of sexually assaulting two other victims. On retrial following jury deadlock at the first penalty trial, a second jury returned a verdict of death. His conviction was affirmed by the California Supreme Court on July 15, 2010.
Morris Solomon is now going through a Habeas Corpus review of his 1992 trial. In 1997, the California Legislature passed legislation which said in California, anyone who is in prison, or otherwise restrained in some way by the criminal justice system, can bring a writ of habeas corpus petition to challenge their imprisonment. One of the most common reasons courts grant writs of habeas corpus is under the "ineffective assistance of counsel" claim, which says a defendant did not have a competent lawyer at their trial or their appeal. I seriously doubt Mr. Solomon will win. But I will be watching.
I never found out who had orchestrated my ousting from the jury, or if that was their goal.