The Sacramento Bee just published an article featuring go-to Democrat campaign consultant, longtime lobbyist, and Godfather of the United Farm Workers, Richie Ross.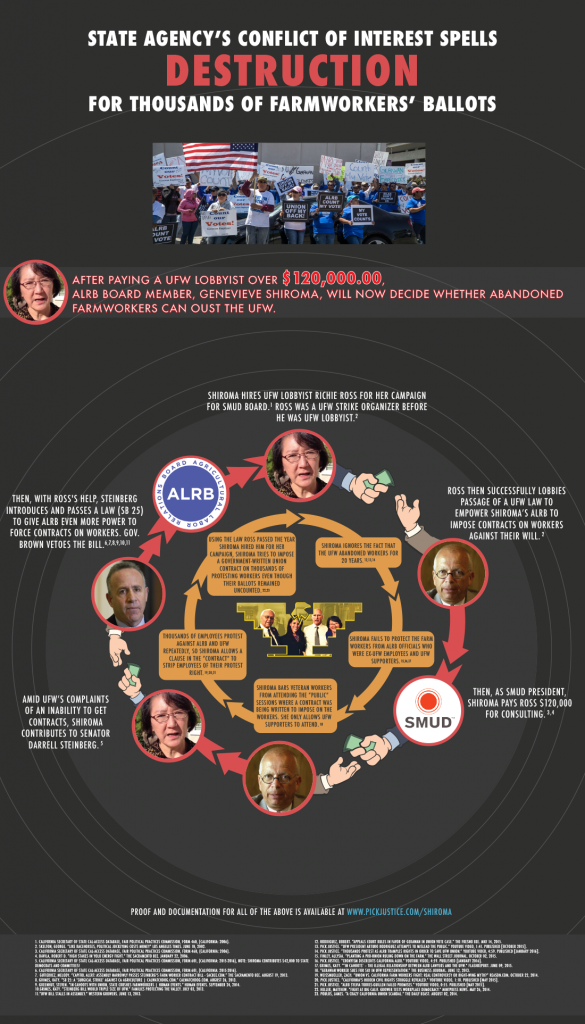 The Bee probably did not to intend to, but the article cements Ross's intertwining and conflicting roles, like a reptilian shapeshifter, synonymous with the UFW and California Agricultural Labor Relations Board member Genevieve Shiroma, as well as his consulting business and allegiances to elected state lawmakers.
If an ALRB board member had such close ties to Ag business, like the ties Shiroma has to Ross, the Fair Political Practices Commission, Legislature and Governor would come down on them with the fervor of William Wallace against the English.
But Ross is a Democrat. Shiroma is a Democrat. The entire ALRB board and UFW is made up of… Democrats. They get a pass, even when they break the law.
Richie Ross: Political Master or Reptilian Shapeshifter
Genevieve Shiroma, long time member of the California Agricultural Labor Relations Board, as well as a board member for the Sacramento Municipal Utilities District, is the subject of a legal brief to disqualify her from the ALRB for bias and conflicts of interest.
ALRB board member Shiroma hired UFW lobbyist Richie Ross for her personal campaign the same year he successfully lobbied passage of the ALRB's California Mandatory Mediation and Conciliation Statute. The MMC law empowers the board to write and force contracts on employers and workers.
In September 2002, then-Gov. Gray Davis signed into law SB 1156 and AB 2596, the first major amendments to the 1975 Agricultural Labor Relations Act, which was signed into law by then-Gov. Jerry Brown.
Shiroma personally contributed over $42,000 to solely pro-union politicians and causes, while at the same pretending to be impartial when she judged UFW issues.
And Shiroma contributed to Senator Steinberg shortly before he introduced and passed SB 25, a law specifically to further empower her board to force contracts on workers against their will.
Shiroma's connections to Ross are deep and long-term:
While a sitting ALRB board member, Shiroma hired Ross for her personal campaign;
As SMUD President and still working as ALRB member paid Ross $120,000 for consulting;
Then she contributed to Democratic Senator Darrell Steinberg shortly before he and Ross introduced and passed SB 25, a law specifically to further empower Shiroma's board to force contracts on farm workers against their will.
Ag Lawyers Threaten To Demand ALRB Vacate Board Members' Decisions
Recently, two agriculture group lawyers sent a joint letter to the ALRB urging the Board to make a quick decision on the Gerawan employees' petition to disqualify ALRB member Shiroma. These lawyers also advised the ALRB that they may advise their clients to pursue action to nullify Shiroma's decisions because she's been so closely tied to the UFW for so many years
The letter, referrenced Gerawan Farming, Inc., Case No. 2013-RD-003-VIS & 39 ALRB No. 20 (filed Jan. 22, 2016), was signed by the attorneys of the Ventura County Agricultural Association and Western Growers Association, who represent cases that come before the Board.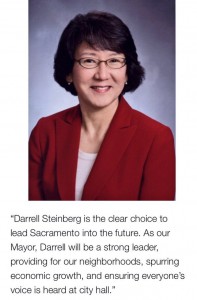 Lopez Legal Brief
Gerawan Farming Company employee Silvia Lopez filed a legal brief to disqualify ALRB Member Shiroma from the Ag Labor Board. Lopez's lawsuit cites evidence of Shiroma's close political ties with the United Farm Workers union, and long time Democrat political operative Richie Ross.
Lopez, a San Joaquin Valley farm worker, filed the legal documents detailing the payments of more than $120,000 from Shiroma to United Farm Workers' Lobbyist Richie Ross, and documented Shiroma's financial support of the author of a bill designed to help the UFW force itself on workers.
The MMC law would compel Gerawan farm workers into a state-imposed "contract" that would saddle the employees with the UFW as their exclusive representative.
Through her attorney, farmworker Silvia Lopez says she "has been denied due process and a fair hearing in this matter due to prosecutorial misconduct, and faces a further violation of her statutory and Constitutional rights due if Member Shiroma is permitted to preside over this matter."
Lopez's attorney also filed unfair labor practice charges on Lopez's behalf after Dolores Huerta, one of the radical left's most notorious UFW union labor leaders tried to prevent the new labor leader of the non-union farmworkers from taking a photo with the governor at an ALRB event. There is video showing 85-year-old Dolores Huerta strong arming and bullying anti-union farm worker Silvia Lopez, "specifically to chill Ms. Lopez's exercise of her protected rights, and to send the message that the governor is UFW territory; no one else may approach," attorney Anthony Raimondo said in a letter to the ALRB this week.
Richie Ross Campaign Consultant, Lobbyist, Strike Organizer, Dem Staffer
Ross, a long-time Democratic campaign consultant and lobbyist, has decades-long ties to the United Farm Workers labor union, working as its lobbyist until 2013.  Ross was also a strike organizer for the UFW. His daughter Esperanza Ross is also a UFW lobbyist.
Ross was hired to do work for the California Legislative Democratic Caucus, by various Assembly Speakers.
As a political consultant, he's worked for dozens of sitting lawmakers, as well as statewide constitutional officeholders including Lieutenant Governor Cruz Bustamante, California Attorney General Bill Lockyer, and Secretary of State Kevin Shelley.
Ross also ran the gubernatorial campaign for Cruz Bustamante against Arnold Schwarzenegger.
And Richie Ross has had a contract as the lobbyist to the California state Bar Association. His daughter Esperanza was also a lobbyist for the State Bar.
It was discovered in 2013 the bar association had a contract for communications consulting with Richie Ross. Yet Bar Association executives refused to make public Ross's contract, who has close political ties to executive director Joseph Dunn, a former State Senator, and former client of Ross.
Ross has had many brushes with state law surrounding his work as a political campaign consultant for candidates, and then lobbying the lawmakers he got elected. "Political kingmaker Richie Ross helps Democrats like Cruz Bustamante get elected, and then he proceeds to lobby them in the halls of the Capitol. He sees no conflict in his interests," Sacramento News & Review wrote in 2003.
"Because we're teaching you about lobbying in this class, cheating is OK," the Bee reported Ross saying.
One of the assignments Ross assigned students is to read "Steal This Book" by anarchist Abbie Hoffman. "Ross assigned the book to show that while the bill they're working on may seem small today, it could grow into something bigger that other communities imitate," the Bee Reported.