Several hundred members of the Vietnamese American community traveled to the State Capitol in Sacramento Monday to demonstrate their support of Sen. Janet Nguyen (R-Garden Grove), including more than 100 Vietnamese Americans who rode the bus from Nguyen's Orange County district.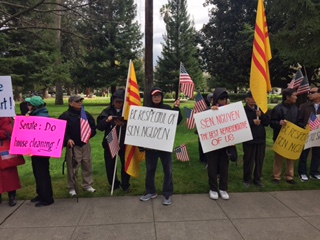 Nguyen was forcibly removed from the Senate Floor Feb. 23, 2017 for speaking about the late Senator Tom Hayden, and his involvement with communists in Vietnam. Hayden's memory triggers outrage in the Vietnamese community.
The rally Monday was a patriotic event, with most of the Vietnamese carrying American flags, and the flag of Vietnam, and many wearing American flag clothing. As the rally officially began, America's National Anthem was sung, followed by the Vietnamese National Anthem.
Sen. Pres. de León's Non-Apology
Protestors wanted Senate President Pro Tem Kevin de León to apologize to Nguyen, and admit he and Senate Democrats violated their own colleague's First Amendment right. Several protestors sad they had a petition asking for this from de León and the Senate Democrats who had Nguyen removed from the Senate.
De León showed up at the end of the rally, as the attendees were lined up to go into the Capitol.
"You didn't apologize," one man in the crowd told de León. "I'll apologize. Where is she?" de León sharply replied, which elicited cheers from the crowd standing on the East steps of the Capitol.
"I'm a little confused" de León said, on why this issue continues "to go on and on and on and on."
"I think she enjoyed the 15 minutes of fame," de León said about Nguyen, to the television cameras and microphones.
Later, on the Senate floor Nguyen strongly rejected the idea.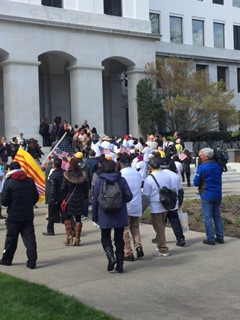 Sen. Nguyen Replies
"Your statement to some media outlets downstairs that I'm doing this for my 15 minutes of fame are not only both wrong and extremely offensive, this is not and has never been about Janet Nguyen," Nguyen said. "It is about the voices of the 34th Senate District and that the Vietnamese-American community was silenced."
Nguyen expressed the sentiment of her supporters who showed up at the rally.
Last week, Senate President pro Tempore Kevin de León (D-Los Angeles), as chairman of the Senate Rules Committee, appointed a three-person panel to investigate the Nguyen First Amendment violation incident. Except, de León appointed Daniel Alvarez to the panel. Alvarez is secretary of the California State Senate, and was involved in the forced removal of Senator Nguyen.
Senate Minority leader Jean Fuller requested a formal investigation and asked for Mr. Alvarez to recuse himself from the panel given his involvement.
Alvarez's involvement had to do with an email Sen. Nguyen and her staff received from Dan Reeves, Chief of Staff to Sen. Pres. pro Tem Kevin de Leon, stating her request was "inappropriate," and she should "respect the rights of others to have a different perspective of that era of American foreign engagement, and a respect for the many other accomplishments Senator Hayden made during many decades of service to California." Senate staffer Reeves was challenging Nguyen based on the content of what he presumed she was going to say, and on what Nguyen was purportedly thinking.
"I'm enraged at the violation to free speech, our Constitution and the precedent this sets," said Sen. Republican Leader Jean Fuller, after Sen. Nguyen was forcibly removed from the Senate. "I do not believe a Democratic staffer should be able to tell one of the elected members that they are not allowed to use their freedom of speech rights to represent their people. All of her comments were legitimately representing the people in her district." Fuller has asked the Senate Rules Committee to look into the incident.
I am curious if after seeing the contemptible email, Secretary of the Senate Danny Alvarez has asked for the resignation of Dan Reeves.
Respectful, Peaceful Protest
Several of the rally attendees told me that what happened to Senator Nguyen, they had witnessed communist in Vietnam doing to their people. They were astounded this could happen in the California State Senate in the United States.
In addition to the Vietnamese, there was a large group of U.S. Veterans showing their support for Nguyen's free speech rights.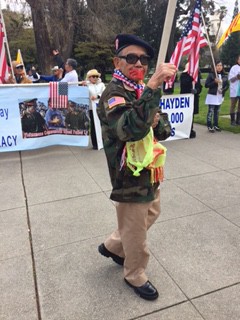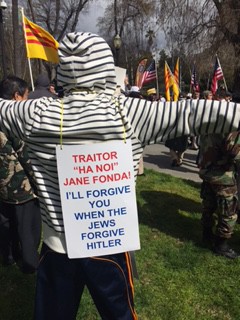 Here is the raw footage from CBS Sacramento of the incident in the Senate  (Watch the Senate staffer repeatedly tell Sen. Lara what to do, telling him to keep telling her to sit down, and then telling him have her removed)
Here is Sen. Janet Nguyen's speech in the Senate.
Previous articles:
Hypocrisy in California State Senate Leads to Commie Suppression of Dissent
California State Sen. Janet Nguyen Removed From Senate Floor for Voicing Differing Opinion