With many of the world's largest technology corporations located right here in California, the state should be number one on the elections performance index. Instead, California ranks 49th.
Pete Peterson wants California to be back on top.
Peterson said the office of Secretary of State has not had committed, creative leadership for many years, and has regressed, rather than improved, in voter engagement and business engagement. Adding to the current mess, current Secretary of State Debra Bowen revealed she has been suffering with depression for years, has frequently been absent from the office, and hasn't been doing her job overseeing the state's voting.
The two candidates who are vying for the job have interesting contrasts.
Career Politician v. Citizen Representative
The race for Secretary of State between Republican Peterson, and Democrat Sen. Alex Padilla, is about a giant political insider, Goliath, versus the outsider, David. But remember, David slays Goliath.
If Pete Peterson applied for the job of Secretary of State, he'd be hired. By the voters. "Most people don't know a career politician," Peterson said. "How will that affect the job?" he asked.
Many politicians get into office and quickly realize it's the best job they ever had. "This leads to bad public policy," said Peterson.
A career politician is always looking ahead at other political opportunities, as well as making policy decisions based on contributions. Peterson wants to collaborate with the Fair Political Practices Commission to better track money in politics, and make the data available to the public. "Where money comes from, and where it is going to in political campaigns, should be completely transparent," Peterson said.
Padilla has received 75 percent of his contributions from unions and political PACs, whereas 95 percdent of Peterson's contributions have come from individuals, Peterson said. "I'm not running against an incumbent, but it feels like it," added Peterson. "I'm certainly running against the ultimate insider."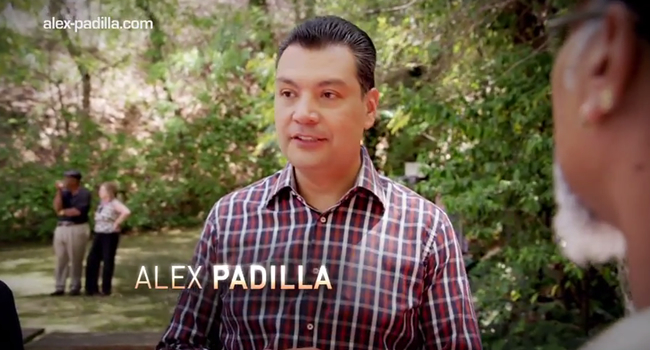 Insider v. Outsider
Outsider Peterson is running against Sen. Alex Padilla, a two term State Senator. Insider Padilla has an impressive resume, in politics.
He graduated college in 1994, and graduated the Coro Fellowship Program in Leadership and Public Affairs in 1995. By 1999, he ran for the Los Angeles City Council, where he served seven years, 1999-2006. Padilla has been in the state Senate since 2006.
While Padilla dodges questions about his future career in politics, in 2012, he was included in a list of 20 Latino political rising stars compiled by the San Francisco Chronicle.
There have been reports on the campaign trail Padilla admitted he plans to run for U.S. Senator Diane Feinstein's seat when she vacates it.
Contrast the career politician with Peterson who brings an interesting and important background to the job. Peterson earned his BA in History from George Washington University, and later earned his Masters in Public Policy from Pepperdine University, and was a Public Policy Fellow at the Hoover Institution.
Peterson worked in printing sales and web design for many years, before becoming the first Executive Director of Common Sense California, a bipartisan, nonprofit "think-and-do tank" devoted to improving civic participation throughout the state, and as executive director of the Davenport Institute for Public Engagement and Civic Leadership at Pepperdine University in Southern California.
While Peterson is a Republican, he says the office is non-partisan, and should be approached as such. And he had dedicated his career to increasing public participation in civic issues on a non-partisan basis.
Platform
Peterson, has a logical, smart, creative and very reasonable platform:
"Get what you pay for" government.
Quit driving jobs out of California by making life difficult for California businesses.
California is the world leader in technology and design – let's use it to make government run better and get more Californians informed and involved.
More Californians/fewer Sacramento politicians in the ballot initiative process.
Follow the money: make it easy for you to track money in politics.
Padilla's platform also focuses on the business responsibilities of the Secretary of State's Office, and vows work to eliminate the backlog and help new businesses open sooner to create jobs.
Expanding Voter Participation
Ensuring that Every Vote Counts and is Accounted For
Increasing Transparency through Technology Where Appropriate
Making it Easier to Start a New Business
The Candidates
What sets these two candidates apart isn't just the office they seek.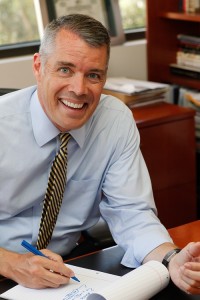 Padilla has a history of big-government legislation under his belt, including the recent bill to ban plastic grocery bags in California. SB 270 by Senator Padilla "prohibits stores from distributing lightweight, single-use plastic bags." SB 270 bans the recyclable plastic bags and replaces them with heavier plastic bags, five times thicker, and with a new cost of ten cents each, pocketed by the stores It is unclear in this legislation how a significantly thicker plastic bag is better for the environment.
Peterson, the outsider, has received endorsements from nine of the 10 big newspapers in California. "We must better engage citizens," the San Jose Mercury News editorial board wrote. "Peterson is eloquent about improving access to voting and public information. His energy, ideas and keen appreciation of the importance of public participation make him the superior candidate."
San Jose Mayor Chuck Reed also endorsed Peterson: "As our chief elections officer, the Secretary of State must lead the office in a nonpartisan way. There has been too much politics inserted into our initiative process in recent years; I know Pete will defend the ballot box for all Californians regardless of party."
Padilla's endorsements real like a who's-who of the state's labor unions, and every liberal cause, from AFSCME District Council 36, to the California Teamsters Public Affairs Council, LGBT Equality California, to NARAL Pro-Choice California and the Sierra Club. Padilla, has outspent Peterson eight to one. "In the filing period between the start of the year and the end of September, Peterson has a balance of more than $52,500 in campaign contributions, compared to Padilla's roughly $410,000, according to recent state records," Oakland North recently reported.
Business clearinghouse
Peterson is emphatic about opening up the Secretary of State's office to businesses, and making it user friendly.
Peterson said one of the biggest things he's learned on the campaign trail is how frequently other states are in California recruiting businesses of all sizes. "They get calls from economic development agencies in Reno, Scottsdale, and Raleigh, North Carolina. It's not just Rick Perry in California," Peterson said.
The SOS should be doing entry and exit interviews of new and departing businesses, Peterson said. The transparency he wants to bring to the office begins with exposing where the $800-per-year business franchise tax goes, that every business must pay just for the privilege of being in California. Peterson said he's talked with many small business owners who opt out of corporate status because the fee is too high.
"It falls most heavily on small business," Peterson explained. "We've priced lower socioeconomic businesses right out of the state with this tax, and out of the legal protections they would get under corporation status."
And that's just the beginning of the hassles and troubles business. "The Secretary of State's office has become the DMV for small business," he joked, noting how much improved the DMV has become in recent years. "It's possible to fix what's wrong, as the DMV has shown us in many locations."
Peterson said fixing what ails the SOS is a six to eight year proiccess, and he's committed to doinbg it, rather than looking at running for another office.